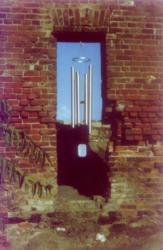 We offer a wide selection of products, and they are all Made in the USA.
Dallas, TX (PRWEB) July 03, 2012
Eco Wind Chimes, a subsidiary of Just One Moon, the leading provider of fair-trade and environmentally responsible products, announced a Made in America sales event to honor the Fourth of July holiday taking place from Wednesday, July 4, to Saturday, July 14, 2012.
Details of the special event include a 15 percent discount on total purchased price which can include fine tuned chimes and personalized slate plaques. The e-commerce distributor of domestic made products for the home enables customers to shop by sound, manufacturer, or size, and includes up to 99 different choices starting from $39.99. Grace Note Wind Chimes can even be personally engraved. Due to increased cost Eco Windchimes will have to raise their regular price after the sale, so this is the last time prices will be this low with the discount. There are no coupon codes to remember and the sale is site wide.
"The Fourth of July is the perfect time to honor our country, and Eco Wind Chimes is offering a special discount as a way celebrating our patriotism and freedom," said Stephen Betzen, owner of Eco Wind Chimes. "Whether you are looking for housewarming gifts or the perfect wedding present ,we offer a wide selection of products, and they are all Made in the USA."
The Dallas, TX, based online distributor of domestic products accepts PayPal and most major credit cards. Available products include fine-tuned wind chimes from Grace Notes and Music of the Spheres. A more recent addition to their product line also includes engraved plaques from Grace Notes.
ABOUT ECO-WIND CHIMES:
In January of 2005, the parent company of Eco Wind Chimes, Just One Moon, was founded on the belief that any company has a responsibility to the community they live in. It must care for the community's people, the environment and the company's customers. The two pillars of our foundation, ethics and sustainability, arise from this belief in our responsibility. Along with Fair Coffee (FairCoffee.com), Just One Moon's other daughter company, we represent two approaches to fair business: one which recognizes the importance of sustainable international trade, and another which recognizes the value of fair-paying jobs at home, jobs that build our local economies. Both show the quality products that result from fairness.