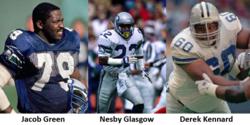 This campaign was created to generate awareness and that in turn could potentially save lives.
Seattle, WA (PRWEB) July 03, 2012
Former Seattle Seahawks players Jacob Green and Nesby Glasgow in conjunction with Dr. Steve Carstensen, DDS, President Elect of The American Academy of Dental Sleep Medicine are holding a sleep apnea awareness event on July 14 at 2 p.m. The event will be held at Century Link Field located at 800 Occidental Ave. S. in Seattle, WA and is free to the public with pre-registration. There will be a question and answer session prior to the event for the press beginning at 1 p.m.
This event is the third event scheduled, in the nationwide campaign, "Tackling Sleep Apnea." The campaign is hosted by the Pro Player Health Alliance, and is taking place across the United States with a goal of tackling every region. The campaign stems from the need to create sleep apnea awareness in efforts to help save lives.
In addition to a discussion that will be taking place on the dangers and treatments of sleep apnea, free in-home sleep tests will be offered to the first 25 pre-registrants/attendees of the event. Reading and diagnosing of the sleep tests will be Board Certified Sleep Physician Dr. Teresa Jacobs. An in-home sleep test is an alternative to spending the night in a sleep lab and gives an individual the opportunity to record breathing patterns in the comfort of his/her home bed. Also assisting the effort to spread awareness is Dr. Steve Marinkovich, DDS, Diplomate of the American Board of Dental Sleep Medicine, practicing in Tacoma, WA.
NFL Hall of Famer Derek Kennard will be joining the event and sharing his experience with sleep apnea and fatality. Players will also be available afterwards to sign autographs. In addition, there will be football-themed door prizes. "This campaign was created to generate awareness and that in turn could potentially save lives," Carstensen said." Many people are not aware of the health-risks associated with sleep apnea or even if they have it; that is why it is important to generate awareness about this potentially deadly condition."
In efforts to raise as much awareness as possible, Dr. Carstensen and all former NFL players involved in the event will be available for pre-scheduled interviews a week prior to Saturday July 14th. "In addition to coverage of the event, it is important for us to get pre-coverage of the campaign/event in order to boost public attendance" Carstensen said. Free in-home sleep tests are also available to Seattle media and production staff as a collaborative effort to be included in a show idea for coverage.
"I have made it my mission to spread awareness on sleep apnea, the dangers of untreated sleep apnea and effective treatments," Kennard said. "Sleep apnea does more than lead to several health problems, it can take your life. We need all the help we can get to spread the word to the public."
To qualify for an in-home sleep test or to attend the event, participants must pre-register online at SleepTest.com/ Seattle or call either 1-855-MY-SLEEP or 425-614-5598 prior to the event. Visit http://www.SleepTest.com/seattle to find take an online questionnaire and find out if you are at risk for having sleep apnea.