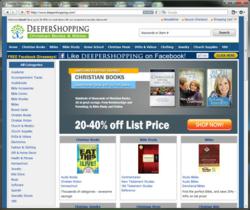 Our goal is to ensure that every book seller in the United States has access to a professionally produced and maintained Web Store
Suwanee, GA (PRWEB) July 04, 2012
Customers of the bookseller solution "Signature Websites" from Innovative can now switch free of charge to the DeeperCalling bookseller platform. Users that make the change can expect on average to save between $500 and $1200 per year in maintenance and hosting fees - welcome relief for hard pressed booksellers in these challenging economic times.
To take advantage of the savings, bookstore owners need only invest a few minutes in completing a short registration request. The form is available on the DeeperCalling website at http://www.deepercalling.com/content/free-stores/
"Our Switch-N-Save campaign helps save independent booksellers hundreds, if not thousands of dollars a year. And in this economy that is precious money that can be invested in stock, in other forms of advertising, or in debt reduction," stated DeeperCalling Media CEO Bill Goodyear.
"Our Christian Bookstore service provides all the bells and whistles that any Church, Ministry or Christian Bookseller would need. Whether you are looking for a simple set-and-forget solution, or an optimized online marketing machine, our service will give you what you need at a pricepoint that is free," Goodyear states.
"Our goal is to ensure that every book seller in the United States has access to a professionally produced and maintained Web Store," Goodyear continues. "Why pay good money for something you can get for free? Retailers tell us all the time how they are facing stiff competition from online companies. Since 2005 we have provided the leading solution for Independent Christian or General booksellers seeking to sell products on the internet, and during that time we have seen the market consolidate. We believe it is vital for the overall health of the book market that Mom & Pop retailers remain strong and vibrant. Having an online marketing strategy is not a luxury, it is a necessity. At DeeperCalling Media we help booksellers thrive online - and we do it at a cost that all booksellers can afford - Free!"
DeeperCalling Media is the established leader in eCommerce Web Stores for Booksellers. The company provides retailers in the United States, Canada and the United Kingdom with optimized easy to use Bookseller Web Stores in both the Christian and General bookmarket trade. More information on DeeperCalling Media can be found at the company website http://www.deepercalling.com – and customers can preview a demonstration web store at http://www.deepershopping.com