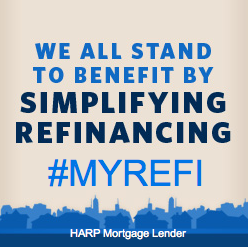 Expanding The Home Affordable Refinance Program guidelines can help an additional 7 million underwater homeowners.
Las Vegas, NV (PRWEB) July 03, 2012
HARP Mortgage Lenders adopt the hashtag #MyRefi to promote President Obama's Mortgage Refinance Proposal to expand the Home Affordable Refinance Program (HARP 2.0) guidelines to HARP 3.0, which could help an additional 7 million underwater homeowners refinance and save an average of $3,000 a year.
Creating additional refinancing opportunities is included in the President's "To-Do List" for Congress, which involves a proposal to pass legislation that will cut red tape so hard working, responsible homeowners who are paying their mortgage can refinance at today's low interest rates.
According to WH.gov/Refi - President Obama's plan is simple: make it easier for millions of responsible homeowners to refinance, even if they are underwater, regardless of who owns their mortgage. The President's proposal would establish a quick and hassle-free process for homeowners who are current on their mortgage payments and want to refinance—no more tax forms, and no more appraisals—just a lower interest rate, and lower payments each month.
"Even with the expanded HARP 2.0 guidelines, we are still finding that 4 out of 10 borrowers we speak with are unable to qualify for a refinance due to participating lender restrictions," explained Brian Maier, a Las Vegas, NV mortgage broker.
The White House has started a national movement driven by homeowners and perpetuated through social media by using the #MyRefi hashtag for the purpose of creating awareness of the economic benefits of refinancing.
Highlights of the HARP 3.0 Mortgage Refinance Proposal include:

Expanding eligibility for refinancing at today's low rates
Helping homeowners rebuild equity
Helping more homeowners stay in their homes
Helping the housing market and getting construction workers back to work
Protecting homeowners with a Homeowner Bill of Rights
Investigating mortgage misconduct
A search on Twitter or Google Plus for the hashtag #MyRefi or #WhyRefi produces thousands of opinions about the role of government in the mortgage process, the personal impact HARP 2.0 has had for homeowners and the confidence industry professionals have in additional enhancements to the Home Affordable Refinance Program.
About The Home Affordable Refinance Program (HARP 2.0):
In October 2011, the Federal Housing Finance Agency (FHFA), Fannie Mae and Freddie Mac announced enhancements to the Home Affordable Refinance Program that make it easier for lenders to refinance HARP-eligible mortgages.
HARP is refinance program created to help responsible borrowers who have continued to make their mortgage payments, but may be unable to refinance over recent years due to a decline in their home value.
The Obama administration claims that HARP will save homeowners an average of $250 a month in mortgage payments, and that the Home Affordable Refinance Program overall will help an anticipated 4-5 million underwater homeowners.
HARP Mortgage Loan Resources:
About HARP Mortgage Lender:
HARP Mortgage Lender is a national online network of pre-approved home loan professionals and lending institutions who are authorized to participate in the Obama Administration's updated versions of the Home Affordable Refinance Program (HARP 2.0 - 3.0). HARP Mortgage Lender is owned and operated by Best Rate Referrals (http://bestratereferrals.com/), a Nevada-based online publisher and mortgage technology firm that manages over 3,000 consumer-focused real estate and lending websites.