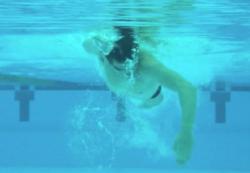 A ban on suits means swimmers need to rely on training and technique
Melbourne, Australia (PRWEB) July 03, 2012
London Olympic swimmers will take to the water without record-setting bodysuits for the first time in 16 years.
The full body suits, made famous by Ian Thorpe and Michael Phelps, were banned after swimmers broke an unprecedented number of world records at the Beijing Olympic Games in 2008 and Rome World Championships in 2009.
Full-length high-tech swimsuits were introduced before the 2000 Sydney Olympics, when swimmers turned to new water-repellent fabrics that compressed their bodies and improved their swim times. The wetsuit-like suits cut down on fatigue and gave swimmers more buoyancy and speed.
As designs became more advanced, swimmers were able to shed more seconds from their times. Sixty-six Olympic records were broken during the 2008 Games – in some races the first five finishers beat the old Olympic mark.
The new rules, in effect since 2010, permit only suits from the kneecap to navel for men, and from the knee to shoulder for women.
A ban on the suits means swimmers need to rely on training and technique to improve their efficiency in the water. In London, swimmers will depend on their own fitness and technique to beat out the competition.
Brenton Ford, Head Coach at Effortless Swimming, says there has been a surge in the number of swimmers who have turned to his Mastering Freestyle Technique video program in light of the changes.
"We've seen a big increase in swimmers and triathletes using the Mastering Freestyle program to better their technique," says Brenton. "Since the FINA swimsuit bans were introduced, athletes are now realising the biggest improvements come from technique."
"In the US Olympic trials Michael Phelps has qualified for his fourth Olympic games, and it's no fluke that he's technically one the best swimmers of all time. He's the one that aspiring swimmers of all ages look to and want to swim with the same grace and elegance," he says.
Effortless Swimming's proven step-by-step system reduces the effort and energy of swimming fast and aims at developing perfect technique through simple drills.
Brenton believes that when used as part of a regular training regime, the Mastering Freestyle program can help swimmers gain speed advantages without breaking any rules.
"I've seen triathletes and swimmers totally change their swimming in a less than 4 weeks after learning some of the things we teach. It's never too late to improve," he says.
For more information on the Mastering Freestyle program you can visit http://www.effortless-swimming.com