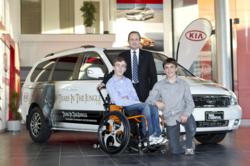 (PRWEB) July 04, 2012
The Clarke brothers, Daniel (15) and William (13), will commence the week-long tour on Monday, June 25 on the NSW South Coast before continuing through to Canberra later in the week. Older brother Daniel has Athetoid Cerebral Palsy, which sees him wheelchair bound.
The dilemma facing the family was that the family wagon has done over 250,000km and in order to complete the tour they were going to need a more suitable car.
After a visit to Col Crawford Kia in Brookvale on Sydney's Northern Beaches they decided that the vehicle most suited to their needs was the Kia Grand Carnival.
"We had a look at a few vehicles from different manufactures but only one of the vehicles had the interior flexibility to accommodate for the wheelchair and the other gear we needed to take," said the boy's father, Rodney Clarke.
"Kia Motors Australia has very kindly loaned us a top of the range Platinum Grand Carnival for the duration of the tour," he said.
"Our introduction to the car was surprisingly emotional because Daniel has never been able to open those large vehicle sliding doors from his wheelchair. But the Grand Carnival has these automatic doors, which slide open once you pull the handle.
"When he did this for the first time he turned to us and said that that was the first time he had ever been able to open a car door.
"The biggest challenge for us is going to be handing it back. It has every single, family friendly gadget conceivable. The boys already have their iPhone plugged into the stereo, there is a reversing camera which pops up in the rearview mirror, there's climate control, a huge sun roof, cup holders and storage space in all the right places and a leather interior."
Kia Motors Australia Chief Operating Officer, Tony Barlow, said the opportunity to assist with the Tears In The Jungle education tour was too good to ignore.
"Initiative, drive and social awareness are all characteristics that Kia Motors Australia values highly," Mr Barlow said. "To find those qualities in these two outstanding young people made the decision to support them an easy one."
In addition to the luxury items, the Clarkes will be kept safe during their upcoming tour by a long list of safety features including front, side and curtain airbags as well as electronic stability control, ABS and the rearview camera with reverse parking sensors.
A tour highlight for the boys will take place on Friday, June 29 when Daniel and William sit down with US Ambassador to Australia, Jeffery Bleich, to discuss the reasoning behind Tears in the Jungle and how President Obama and the US can help.