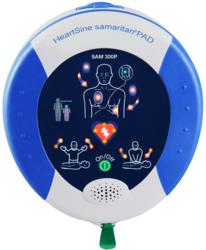 AEDs save lives.
San Jose, CA (PRWEB) July 17, 2012
Heart disease is the foremost cause of death for both men and women in the United States. Heart disease can lead to sudden cardiac arrest, which will produce death without medical intervention. Proper use of an automated external defibrillator (AED) increases the chance of survival for a person experiencing cardiac arrest. Information is provided below on what an AED is, how it works, why it is important, and who can use it.
An AED is a portable, battery-operated device that is able to check a person's heart rhythm via adhesive electrodes that communicate with the AED's internal computer. If needed, the AED can deliver an electric shock to the person's heart. Administering an electric shock to the heart may be necessary in order to restore the heart's normal rhythm. When a person suffers from sudden cardiac arrest, his or her heart develops an abnormal heart rhythm known as an arrhythmia. This arrhythmia causes the heart to stop beating and the afflicted person will pass out. Thus, restoring a normal rhythm is imperative to reestablishing blood and oxygen flow to the individual's brain and vital organs.
Ventricular fibrillation is a type of arrhythmia that causes sudden cardiac arrest. This kind of arrhythmia is marked by the heart ventricles quivering irregularly and very rapidly. An AED is pre-programmed with the ability to detect this fibrillation. In turn, the AED will conclude that "defibrillation" is required. The AED will broadcast a voice command that instructs the person operating the device to shock the unconscious person's heart. The AED will determine how much electrical energy to provide. The user will only need to press the shock button when prompted to do so.
Ventricular tachycardia is another type of arrhythmia that can cause sudden cardiac arrest. An AED will also identify this type of arrhythmia and, likewise, prompt an emergency responder to deliver a shock. If the AED detects no arrhythmias requiring defibrillation, then the AED will instruct the user to refrain from administering a shock. In studies, AEDs were found to be highly reliable. They accurately identified when a shock should be administered or withheld at least 90% of the time.
Learning how to properly use an AED can be obtained through an American Heart Association CPR training course. The course will usually cover AED utilization as well as cardiopulmonary resuscitation (CPR). Both emergency response methods help improve a person's chance of surviving sudden cardiac arrest. Immediate use of AED and CPR is critical, as survival rates drop by approximately 10% each minute the individual remains without heart function.
In the event that someone suffers sudden cardiac arrest and no trained individuals are present, AEDs were intentionally designed to be easily learnable. As mentioned above, the AED incorporates voice prompts to guide a user through each step of using the device. The AED may also include a screen where information and instructions are displayed. With heart disease being the top American killer, usability is a noteworthy AED design feature as it permits a greater number of people to respond in cardiac emergency situations.
For more information on the treatment and prevention of heart disease, AEDs, and how to obtain training, visit the San Jose American Heart Association for upcoming courses. Classes are held by San Jose CPR Classes on a regular basis.