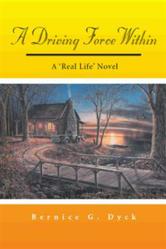 "Hearing about people who struggle unbearably over how to deal with issues such as rape inspired me to diagnose how I would feel, and what direction I would probably take in the end, if I were to be caught in such a life-changing situation,"
PLUM COULEE, Manitoba (PRWEB) July 05, 2012
According to the Crisis Connection, someone in the United States is sexually assaulted every 45 seconds. It is staggering statistics like these, regarding rape, that led the author Bernice G. Dyck to pen her new novel, "A Driving Force Within: A 'Real Life' Novel" (published by AuthorHouse), a novel offering insight and guidance for the many decisions that victims face afterwards, especially when they find themselves pregnant as a result.
"A Driving Force Within" tells the story of Molly Brighton, a young woman who struggles with being a victim of rape, all alone, as she attempts to make a critical decision that will impact her life forever, as well as the lives of her family members who she loves dearly.
Struggling between options like abortion and adoption, she must make a choice that she can live with for the rest of her life. Although the lies she tells and the truths she hides all work for her for an extended period of time, her life keeps changing, her future becomes as blurry as her past, and when the 'hatchet falls' she has no choice but to bear her soul and at last share the truth, at last!
"Hearing about people who struggle unbearably over how to deal with issues such as rape inspired me to diagnose how I would feel, and what direction I would probably take in the end, if I were to be caught in such a life-changing situation," explains Dyck. "Like Molly, the ugliness of the attack, coupled with the shame we feel when the pregnancy is recognized, can be dealt with in a variety of ways."
It is Dyck's hope that leading Molly down what she considered to be the right paths, as she surveys her possibilities and makes the right choices for herself and her family, could possibly help women everywhere to also make the right choices in their lives when times seem to be desperate and out of control.
About the Author
Bernice G. Dyck is author of two other books, her first being a Christian-based book entitled "Look Back to See Ahead." She is currently at work publishing the sequel to "A Driving Force Within" entitled "A Deep Well of Inner Strength."