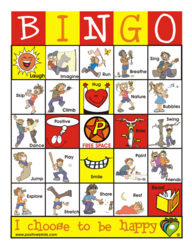 Parents are given strategies about how to write and display notes with affirmations to build a child's self-esteem and character
San Diego, CA (PRWEB) July 18, 2012
Positively Kids, is a prominent online destination that provides helpful information and tools to assist parents, child care providers and others to raise happy and positive-thinking children. While life is not always a bed of roses, it is possible to get through challenging and difficult times while maintaining a healthy, positive attitude and the site provides a wide variety of resources to help adults in this endeavor of fostering a positive attitude in children through the creation of unique and inspiring characters, such as Captain Positive, while also providing helpful tips, articles and advice from leading experts in child psychology and development. The site is announcing their recent release of a helpful set of new tips that will assist parents to keep their children focused on being and remaining positive while dealing with the heat, and the boredom, that sometimes accompanies summer breaks.
Positively Kids is a premier site for everything related to raising positive-thinking, happy and healthy children. This website offers a variety of information to help parents and others in their efforts to raise mentally and physically healthy children. Many of the behaviors, attitudes and outlooks that individuals have as adults begin in early childhood, and anything that can be done to improve an individual's ability to cope with the stresses of life in a positive and upbeat manner will serve both the individual and society well for years to come. This site helps in this endeavor through several different means. The site is known for its award-winning "Captain Positive Series," which is part of the Positively Kids line of multi-media entertainment products. This series teaches children the power of positive thinking and the most recently released CD from the series, the "Captain Positive: Be Happy" music for kids CD has won the Mom's Best Award and Creative Child Excellence Award.
The company partners with prominent neuropsychologists, authors, family coaches, parents, educators and more to produce helpful and inspiring products that empower children by teaching them to tap their inner strength and embrace life's challenges and chose to be happy, no matter the circumstances. The site has recently released a series of 10 tips to help parents help their children to remain positive during the summer break by teaching children how to develop and practice the skill of optimism. The 10 tips for parents and children to practice this summer to develop optimism include:
1) Use the Power of Positive Speech. At the site, parents are encouraged to speak in positive words and phrases as children can often sense what others are thinking. By focusing on positive aspects of a situation and remaining calm, parents can model and project positive behavior for their children.
2) Focus on Beauty in the Environment. Parents are also encouraged to spend time with their children and to notice the beauty that is everywhere in all surroundings. This can help to lift the spirits of parents and children.
3) Spend time together laughing and playing. The site provides the example that a "laugh night" is a great way to help parents and children to bond with one another while participating in activities that encourage enjoyment. The site lists many examples of the types of activities that would be great for a "laugh night."
4) Learn to remain calm by focusing on breathing. Parents are encouraged by the site to teach their children of self-calming by practicing and modeling this behavior during times of stress or negativity. The site provides a number of examples of how this can be practiced with children.
5) Play positive music. The site emphasizes how much children love to repeat songs they hear, over and over again. Positive music is a great way for kids to start repeating positive words and statements.
6) Enjoy friendly competition. The site provides additional tips on how playing games with children can teach them perspectives about sportsmanship and being confident.
7) Write Positivity Notes. Parents are given strategies about how to write and display notes with affirmations to build a child's self-esteem and character.
8) Teach compassion. The site provides parents with tips on activities on how to teach and model cooperation, thoughtfulness and helpfulness to their children.
9) Encourage reflection. The site suggests that older kids can be given a journal in which to reflect privately. Younger kids, however, often need to be coaxed and the site provides great tips on how to stimulate their imagination and willingness to express their feelings.
10) Encourage and Support. Parents are also encouraged to help their children to feel important by thanking them as well as others to model this behavior so that children can see how important it is to do their part to make the world a better, more positive place for everyone.
In addition to these tips, and their CD and videos,, the site also features a helpful blog full of useful parenting and child development articles. With all of the helpful products and advice, as well as friendly and efficient customer service for their videos, it is little wonder that the site has received so many awards and glowing and rave reviews, including this recent comment, "I absolutely love the entire concept of Positively Kids! I think it's a great way to uplift children from a very young age! We all need to embrace this positive outlook," from Lisa Druxman, Founder of Stroller Strides. Another recent comment from Carol McCloud, Author of "Have you Filled a Bucket Today" and Founder of Bucket Fillers, Inc. reinforce the belief in the positive influence provided by the site, "In a world where put-downs and criticism are more common than praise and compliments, "Be Happy" puts an emphasis on the positive in the lives of children. Thank you for your work to make lives happier and more rewarding."
To find out more about the company's helpful tips and other beneficial advice can help everyone in their efforts to raise positive thinking children, please visit the company's website at http://www.positivelykids.com.
.
About Positively Kids
Positively Kids was founded in 2010 in San Diego by mom Stacey Crumrine. Positively Kids brings parents, caregivers, and educators many tools that they can use to develop optimism and positive thinking in children of all ages. Positively Kids weaves its "Captain Positive" character, the super-hero of positive thinking, through CDs like the just released "Captain Positive: Be Happy", the "Be Happy" DVD, plus "Captain Positive: Be Calm", and more, as a means of preparing kids to keep a positive attitude during the many challenges that they will face all throughout their lives.