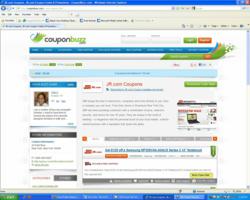 After all, saving $30 bucks on the purchase is a great pretext for another trip to the fireworks stand.
Houston, TX (PRWEB) July 03, 2012
Earlier today CouponBuzz.com announced a new JR.com coupon that will gladden the hearts of holiday shoppers everywhere! Saving an extra $30 dollars off on a new eLocity A7 Plus 7" Android Tablet Bundle can be almost as much fun as a Fourth of July barbeque! The coupon is located at JR.com's new designated web page at CouponBuzz.com, on online coupon aggregation website dedicated to saving consumers significant amounts of money. Regardless of whether those savings end up as fall school supplies or a few more fantastic backyard grilling competitions, this is one coupon website it is worth taking the time to investigate.
"Long summer days are infinitely more fun with a little bit of change in your pocket," enthused Justin Bowen, a spokesperson for CouponBuzz.com. "Today's featured JR.com coupon for $30 dollars off an eLocity Android Tablet is turning out to be all the push some of our online shoppers needed to take the leap to the wonders of tablet-land. After all, saving $30 bucks on the purchase is a great pretext for another trip to the fireworks stand."
Consumers are taking a break from their burgers and potato salad to follow this link, where they can discover how to utilize this juicy JR.com coupon and get their hands on a new Android tablet. Unlike it's competitor the Apple iPad, the eLocity A7 Plus 7" Android Tablet boasts the flash-enabled Android 2.2 (Froyo) operating system, allowing unlimited online video entertainment. In addition to supporting flash (one of the most universally lamented limitations of the Apple iPad), the eLocity 7 inch Android runs the powerful dual-core NVIDIA Tegra 2 processor, which makes it incredibly fast.
The eLocity Tablet featured today's JR.com coupon also comes with a convenient USB 2.0 port, which makes transferring data and pictures a cinch, even if they haven't been uploaded to a cloud server first. A MicroSD slot supports 32G of expandable storage, and facilitates simple integration with a camera. And an HDMI output will transfer the media streaming on your Android tablet to an HDTV in true 1080p high definition. Essentially, the eLocity A7 Plus 7" Android Tablet is the king of all portable tablets, functioning more like a media server than a simple portable media player, and fully capable of duplicating a wide range of laptop functions. Full specifications and the $30 dollar off JR.com coupon for the eLocity Tablet can be accessed here http://couponbuzz.com/jr.com-coupons.html.