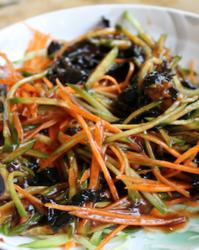 Maintaining a vegetarian diet in China can be difficult if you don't have the right vocabulary and tools.
Shanghai (PRWEB) July 05, 2012
UnTour Shanghai added a meat-free food tour tailored for vegetarians to its line-up of popular tasting experiences. The 'Vegetarian Voyage' is perfect for travelers with dietary restrictions who still want to experience the local culinary traditions.
Since its founding in November 2010, UnTour Shanghai has hosted many vegetarian guests by offering meat-free versions of their roster of six culinary tours, but the Vegetarian Voyage is the first time the food tour operator has designed a tour that leaves herbivores full and fulfilled.
"Maintaining a vegetarian diet in China can be difficult if you don't have the right vocabulary and tools. Too many of my vegetarian friends are confronted with a sprinkling of pork on their tofu when they order supposedly meatless dishes," says Jamie Barys, Chief Eating Officer of UnTour Shanghai. "We designed our Vegetarian Voyage to showcase China's talent with tofu, vegetables and so much more, because everyone deserves to eat well on vacation, no matter what their dietary restrictions."
From spicy sesame noodles to tasty soy-braised wheat gluten, guests will sample the best of China's meatless miracles. The well-paced walking food tour gets culinary explorers into quaint back alleys of the former French Concession while learning about the city's rich culinary history and architectural gems. To top it off, UnTour Shanghai teaches its guests the basics for vegetarian ordering in Chinese so they'll be set for delicious meat-free dining the rest of their trip.
UnTour Shanghai's private tours, including the Vegetarian Voyage option, are all-inclusive. A bilingual guide picks up guests at hotels and residences around the city. All transportation, food and beverages during the tour is provided, and guests receive a welcome pack introducing them to the city's dynamic dining scene. The Vegetarian Voyage food tour lasts about three hours and covers a distance of about 2km on foot. The cost per group up to six people is US$180, and is all-inclusive.
All Shanghai day tours are capped at six people (though arrangements can be made for bigger groups), so each guest is sure to have a personalized experience with plenty of guide and vendor interaction at each stop. Each Shanghai food tour is led by a native English-speaking guide who also speaks Mandarin.
For more information about UnTour Shanghai, please visit http://www.untourshanghai.com or contact Jamie at Jamie (at) UnTourShanghai (dot) com.
Vegetarian Voyage Tour Details:
Start Time: 10:30 AM or 2pm
Duration: ~3 hours
Cost: RMB US$180 (inclusive of all food, drinks & transportation on the tour) per group up to 6 people
Distance walked: ~2km
Booking: Email info (at) untourshanghai (dot) com or contact Jamie at +86 186.1650.4269 to book your tour. 24 hour advanced notice for bookings is appreciated.
About UnTour Shanghai
UnTour Shanghai is an urban adventure tourism company specializing in jogging sightseeing tours, culinary food tours, and cultural excursions. Thanks to consistently high customer feedback, UnTour Shanghai is rated Shanghai's #1 culinary tour and running tour operator by the users of the popular online travel community, TripAdvisor.
Jamie Barys and Kyle Long created UnTour Shanghai after they became frustrated with the lack of quality tour companies when they had visitors in town. Too often, tour companies take guests to overcrowded tourist spots, leading them around with a flag in one hand and a loudspeaker in the other. An "UnTour", on the other hand, is an art Jamie and Kyle, both avid travelers who have lived in China for more than eight years combined, have perfected. They avoid hordes of tourists and escape guidebook tedium by exploring authentic back alleys and interacting with residents. With UnTour Shanghai's enticing offerings, now guests can explore the city like a local and take home unique memories from their trip.