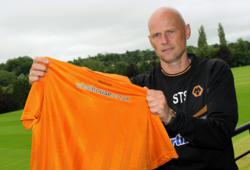 (PRWEB UK) 4 July 2012
Award-winning new homes portal whathouse.co.uk has become an Official Partner of Wolverhampton Wanderers Football Club (Wolves) and the website will appear on the back shoulders of all home and away first team shirts.
The six figure sponsorship agreement starts as Wolves, a founder member of the Football League and one of the most recognisable names in the game, competes in the Championship after three consecutive seasons in the Barclays Premier League.
What House will also have LED advertising around Molineux, presence on matchday media boards, a search function on the official Wolves website (wolves.co.uk), corporate sponsorship packages and joint marketing to Wolves supporters and corporate customers.
Daniel Hill, director of Globespan Media, owners of What House, said: "This is a fantastic deal for What House. We have made a strategic decision to target different regions of the country in innovative as well as traditional ways to promote our new homes listings and our unique editorial offering. Wolves have a huge presence and profile in the West Midlands, Shropshire and beyond.
"As well as the exposure on match days and in front of Sky and BBC cameras, Molineux is Wolverhampton's leading business venue, hosting conferences, exhibitions and corporate functions, giving it great reach in the Midlands community and a homebuying profile right across the market."
Paul Lakin, head of commercial affairs at Wolves, said: "We're delighted to welcome What House on-board as a very important sponsor with a national reach.
"They are an innovative and growing brand, who have a sophisticated approach to targeting customers with great content and access to one of the most comprehensive databases of new homes in the country.
"We'll be working together to introduce whathouse.co.uk to our growing fanbase and family of sponsors, both locally and across the UK."
There are different rules surrounding sponsorship in the npower Championship to the Barclays Premier League, where clubs are not allowed to carry sponsors' names on the back of shirts.
As with the last time Wolves were in the Championship, the name will only be carried on the back of shirts worn by the players and not the replica kit sold to supporters.