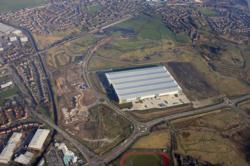 This is tangible proof of the real benefits that Kingsway Business Park is delivering to the local economy.
Rochdale, Greater Manchester (PRWEB UK) 5 July 2012
The design and fit-out of the 616,000ft2 unit for leading retailer JD Sports – one of the largest to be built in the North West – included sub-contracts worth over £1 million that were given to businesses based in Rochdale and Oldham.
The build was managed by Winvic Construction, which worked closely with local agency J21 to encourage local contracting and procurement. The result was the involvement of local companies on the project, including Rochdale-based Fishers Cleaning and Oldham Engineering.
Jason Bright, Project Manager for Winvic commented: "Although we operate nationally, we prefer to subcontract work to local businesses when appropriate. During this build we have awarded contracts to Rochdale and Oldham companies which in total were worth well in excess of £1m."
Awarding contracts locally has also meant a large number of local people have benefited, with over 70 people from the area working on the construction at various times.
Manchester company Hall & Kay employed staff from the borough to install over 20,000 sprinklers in the massive warehouse.
John Hudson, Chief Executive of Rochdale Development Agency, said: "This is fantastic news, and tangible proof of the real benefits that Kingsway Business Park is delivering to the local economy and to local people. The new JD Sports unit will itself bring many more jobs to the area and we are working closely with the company to ensure that as many of those go to local people as possible."