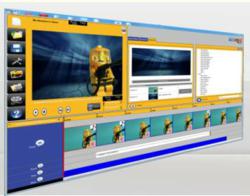 "We have listened to our users and have responded to their feature requests in this new version of our stop motion software. We are very excited about this release of our stop motion software. It makes high end features easy to use"
Cork, Ireland (PRWEB) July 05, 2012
IKITSystems Limited based in Ireland are delighted to announce the release of iKITMovie 3.0, an update to their hobby level, stop motion software animation application for Windows. Designed to meet the requirements of both the home hobby stop motion animator and school classroom based creative learning students, iKITMovie stop motion software builds on its list of features in previous versions to bring the fun of animating to new levels of enjoyment.
Version 3 now includes chromakey/ greenscreen technology and overlay visual fx and is a must for all budding stop motion enthusiasts. Greenscreen is the technology that first amazed us all when we saw superman fly across our screens back in the 70's. Every science fiction movie since then uses greenscreen to create alien backdrops or space scenes. With the release of version 3 of iKITMovie the home or school stop motion animator can now tip their toe in to this world of creative movie making.
IKITSystems have included a library of still images and video backgrounds to get started. The still images and video range from real life photos to video of stars and planets. The latter will no doubt prove popular with star wars fans for flying their X-Wing LEGO fighters through space.
It is possible to supplement this library of images and video with a selection of your own.
An attractive feature of iKITMovie was the inclusion of the 2,000 plus sound fx. IKITSystems have added a fresh selection of music tracks. Drag and drop has been extended in this version also to improve on the user experience.
Pricing and Availability:
iKITMovie Stop Motion 3.0: http://www.ikitmovie.com/
Download Free Trial: http://www.ikitmovie.com/free-trial-stop-motion-software.php
Complete Features List: http://www.ikitmovie.com/14/stop-motion-software-features.htm
Video Tutorials: http://www.ikitmovie.com/15/stop-motion-animation-tutorial.htm
About iKITSystems Ltd.
iKITSystems Ltd. is a world leader in innovative animation software solutions. iKITSystems Ltd. develops user-friendly stop motion animation and educational applications for all.
For additional information, visit iKITMovie at http://www.ikitmovie.com/
For more information, contact:
Diarmuid Brennan
Managing Director
iKITSystems Ltd.
diarmuidbrennan (at) ikitsystems (dot) com