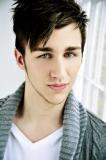 Hayden Clark knows all about working behind the camera
London, UK (PRWEB UK) 4 July 2012
At the heart of the modelling industry, La Mode London, are well known for their expert advice and stunning photo shoots, creating fairy stories and making models into movie stars for the day. Their latest model, Hayden Clark, knows all about working behind the camera and creating his own photo shoot days for his friends and fellow students. With a little cajoling from the latter, he has taken up the challenge of modelling and loves every minute of it.
'What started as a favour to his peers has quickly and turned into a real passion for him and upon the advice of friends and family, Hayden has decided to pursue things further,' explains Helen Smith, director for La Mode London. 'He certainly is very good in front of the camera, and we're sure he's just as good behind, being the photographer. He took direction very well, his model application outstanding and he could see what a photographer needs to get out of the photo shoot. To be that versatile is certainly a bonus for him.'
In his free time Hayden enjoys working out at the gym and taking part in gymnastics to stay in shape, as well as playing football, badminton, running and athletics. He enjoys both mountain and BMX biking and fishing, as well as free running, hockey and trampolining, believing that keeping fit will help him maintain his modelling career long term and La Mode certainly agree.
Specialising in commercial photography, La Mode London are also the experts in providing all the latest modelling advice as well. As offering a top-class photo shoot for an aspiring model of any age. The company at the heart of the modelling industry have a great overview of what really goes on in the high fashion industry and their famous photo shoot days certainly reflects a day in the life of a model. Their latest signing absolutely loved their time at La Mode and if anything, the experience has spurred him on to pursue modelling seriously.
At 6 foot one, Hayden is 18 years old with a very bright future in front of them, being able to take his photography further but also now his modelling. With lustrous brown hair and gorgeous blue eyes, he was asked why he wanted to become a model and said,
'I have been a photography student for a year now and I thought I would give it a go at being on the other side of the camera. I really enjoyed modelling for the other students and they thought I was a natural. Family and friends have always said that I should become a model. I really enjoyed modelling at La Mode and I love being in front of the camera just as much.'
He is interested in all types of modelling, ranging from advertising and commercial, to catalogue and catwalk modelling. Fashion modelling is his preference but he would take on editorial, exhibition and promotional modelling, which will put his skills with working with people to the test. Not at all shy about his body, Hayden would also like to try glamour modelling as well as life and art modelling.
Helen feels that Hayden's knowledge and experience gained from his photography work will help him understand how the mind of the fashion photographer works and that this will be extremely beneficial in knowing how to do the right pose at exactly the right time.
'Hayden's only worry will having to cope with his itchy fingers, wanting to instruct the photographer how to do their job, but we know he has the right attitude to remain professional at all times.'
See all of La Mode London's latest modelling portfolios as they are launched online at http://www.lamodelondon.com