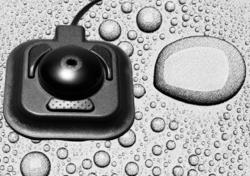 Milton Keynes, UK (PRWEB UK) 4 July 2012
ITAC Systems, a manufacturer of industrial desktop and panel-mount trackballs, joysticks and other rugged human-machine interfaces (HMI), announces Hand-Trak – a patented high-reliability gestural input device where the user simply moves a hand or finger over the device's optical lens to communicate the desired direction, speed and distance of cursor movement, providing more precise control than either a sealed touchpad or joystick. It's designed primarily for use in public access kiosks, manufacturing and marine electronic systems, medical equipment and food processing machinery, and aeronautical and automotive electronic systems.
With no moving parts, the IP66-sealed panel-mount or panel-top Hand-Trak unit is capable if withstanding heavy usage. It is vibration resistant and protected within a glass-reinforced polycarbonate housing. Hand-Trak can be permanently or temporarily mounted, or just rested on a panel, and used at any angle. The device is suitable for use indoors or outdoors and its internal printed circuit board has a conformal coating to provide an additional barrier to liquids, moisture and dust.
The RoHS-compliant Hand-Trak requires no additional software or device drivers to operate under Windows, Linux or Mac OS. Interfaces are available for USB, PS/2 and SUN communications protocols. The Hand-Trak unit is 119.7mm (L) x 107.2mm (W) x 40.1mm (H) and comes with a 2.4 metre connection cable. It weighs 277 grams.
+++ ends +++
PR agency contact
Nayl D'Souza, Publitek Technology PR
Tel: 01225 470000
Email: itac(at)publitek(dot)com
ITAC Systems contact
Dave Mellor, ITAC Systems Limited
Tel: +44 1908 843612
Email: davem(at)itacsystems(dot)co(dot)uk
About ITAC Systems
ITAC Systems designs and manufactures pointing and control devices for challenging applications that demand exceptional durability, reliability and precision operation. Its main markets include manufacturing, marine, medical, public access kiosks, food processing, military/government, geo spatial and air traffic control. The products are compatible with all versions of Microsoft Windows™, Mac OS and Linux. They are true plug-and-play, requiring no additional device drivers beyond those included in the operating systems. ITAC Systems sells direct to major OEMs and via a global distribution network.