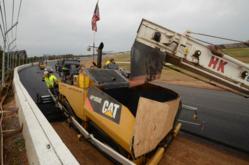 From initial design through project completion, our team demonstrated the ability to brainstorm, plan, implement, construct and operate on all cylinders!
Skippack, PA (PRWEB) July 05, 2012
The H&K Group's recently completed paving project at Pocono Raceway® received rave reviews from NASCAR® drivers following the Pocono 400 Race on Sunday, June 10, 2012. The famous triangular-shaped track, located in Long Pond, PA, embarked on an enormous reconstruction project with the Skippack, PA-based H&K Group to completely repave the track and add several safety upgrades.
The "Tricky Triangle Track Transformation," as it has been affectionately named, began in late summer/early fall of 2011. This was the first track repave since 1995 (which was also performed by The H&K Group) and the third repave in the track's existence. This is only the second time the track has been repaved from the dirt foundation. The last time it was exposed was when the track was initially built in 1971.
In a project of this magnitude, with tight deadlines, strict NASCAR rules and regulations, and the end result of racecars ripping down the track exceeding 200 mph, there is no room for error. That in itself makes it especially impressive that this was an H&K Group "Design/Build" project from the very beginning. In the early phases, The H&K Group's Director of Business, Tommy Letwinch, and The H&K Group's Chief Operating Officer, James T. Haines, met with executives in the NASCAR organization, including NASCAR President, Mike Helton, NASCAR Vice President for Competition, Robin Pemberton, as well as traveled to Michigan to meet with a NASCAR consultant in regards to a similar project at the Michigan Motor Speedway. Officials at Pocono Raceway; including President Brandon Igdalsky, Chief Operating Officer Nick Igdalsky, and Track Superintendent George Ewald; were also heavily involved in the planning and design of the track. All of this critical research and information was relayed to The H&K Group's Engineering & Environmental Services Division, who then built a 3-D model which was used for all project grading and alignment, while the Group's Estimating Team began to scope out the project.
The project was completed in seven phases, which included: initial research, design, engineering and development of the project, demolition of the existing pit wall and storm drainage, milling and removal of existing asphalt from the raceway surface, construction of new concrete pit walls, placement of recycled asphalt pavement in apron areas between Turns One and Three and on infield road, placement of asphalt on the track area and on pit lane, profile milling of track areas as needed, installation of final wearing course to track, apron, and pit lane areas, and finally, rumble strip and runoff construction to existing infield roadways.
There were many provisions made for this unique project, including specialized equipment to pave on the steep grades of the track, and asphalt mixes that had to be perfected and approved by NASCAR. Some of the technology that was utilized was ATS Grading, which is Automated Tracking Software, as well as GPS systems. The Maintenance Department facilitated counterweight equipment which had to be placed on the rollers, as well as an outrigger for the milling machine which helped to combat the steep grades. The material for the project was designed internally and provided by nearby H&K Group affiliate, Locust Ridge Quarry.
During all of this intense planning, designing, mixing, and construction, there was a strict deadline looming, which was April 15, 2012; a non-negotiable date due to the fact that Goodyear® needed to conduct test sessions in order to prepare a tire for the first race, the Pocono 400, which was held on June 10.
Several NASCAR drivers joined the Goodyear test, including Sprint Cup drivers, Kasey Kahne, Jamie McMurray, AJ Allmendinger, Joey Logano and Aric Almorola. All of the drivers offered extremely favorable reviews of the track, including that the track felt extremely smooth, had great grip, and was much faster, which led to predictions of several track records being broken.
Those predictions, in fact, became reality even during the practice sessions held two days before the race, when 36 of 44 drivers posted a faster lap than the 172.533 mph NASCAR Sprint Cup qualifying record set by Kasey Kahne in 2004. Joey Logano, who went on to win the race two days later, set the new record at 179.598 mph. Many NASCAR drivers expressed praise and confirmed their initial impressions of the track following the race. 2010 Pocono Winner and Sprint Cup Points Leader, Greg Biffle stated, "It's glass smooth (the track). I think it's going to bring a lot more energy and excitement to this raceway." Biffle also addressed previous safety concerns with the track that have been resolved with the new improvements. "My hat's off to them as far as safety goes. They put SAFER barriers in and paved the run-off area. They've done a really nice job." Jeff Gordon added, "The track feels really good. I haven't heard a single complaint." The NASCAR organization also expressed their satisfaction of the completed project and for The H&K Group, as Mike Helton, NASCAR President, and Robin Pemberton, NASCAR Vice President of Competition stated, "You delivered, gave everything promised, and more."
The H&K Group feels fortunate to be part of such a landmark venture and proud to have a team of employees with the knowledge, skills and experience to have made the track transformation a success. Chief Operating Officer, James T. Haines stated, "The Pocono Raceway project truly exemplifies The H&K Group's Total Team Approach when undertaking a job of this magnitude. From initial design through project completion, our team demonstrated the ability to brainstorm, plan, implement, construct and operate on all cylinders! Thank you to all involved in the success of the Pocono project!"
The H&K Group and The H&K Group Family of Companies provide site contracting and construction services, construction materials including crushed stone, asphalt and ready-mix concrete, and associated architectural stone and manufactured hardscape and retaining wall products and services through over 80 operations in four states including eastern PA, NJ, MD and DE. Further information on The H&K Group Family of Companies may be found by pointing your browser to http://www.hkgroup.com or calling 610.584.8500.