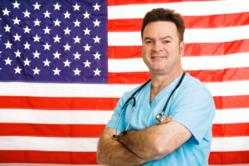 Tampa, FL (PRWEB) July 05, 2012
Care2Learn.com, the leader in online continuing education and healthcare compliance training for the post-acute care industry, now offers an exclusive discount for members of the United States Armed Forces.
All active duty members of the Army, Navy, Marine Corps, Air Force and Coast Guard will receive 25% off all continuing education content available at Care2Learn.com, including more than 500 accredited course modules and over 300 inservices written by industry experts and focusing on topics relevant to the post-acute care industry and beyond.
"This is just a small way to give something back to the hardworking men and women in our armed forces," says Sebastian de Almenara, Vice President of Sales for Care2Learn. "As they return home and begin the process of settling back into everyday life, we hope to ease the transition by increasing their knowledge and their marketability in the workplace."
The Care2Learn 25% military discount is available now, and there is no expiration on the savings.
About Care2Learn
Care2Learn sets the standard for excellence in online continuing education and training for the post-acute care industry and holds more than 70 state and national accreditations. Through our award-winning healthcare Learning Management System (LMS) we offer individual courses as well as large-scale corporate training solutions for healthcare organizations featuring customizable and easily accessible online universities with a full range of tracking and reporting features. With an online library exceeding 350 courses authored by more than 150 subject matter experts, Care2Learn serves more than 300,000 healthcare professionals in all 50 states. Acquired in 2007 by leading online CE provider RedVector, Care2Learn is headquartered in Tampa, Florida and is the recipient of numerous community honors and industry rewards. For further information, call 1-866-703-9418 or visit http://www.Care2Learn.com.