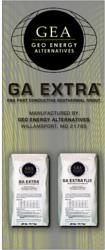 Asheville, NC (PRWEB) July 04, 2012
GeoEnergy Alternatives is pleased to announce its thermally-enhanced grout is now available in the southeastern United States. Already in use in Maryland, GA-Xtra™ is now available in Georgia, South Carolina, and Tennessee. GeoEnergy Alternatives is working diligently to introduce GA-Xtra™ to additional markets quickly.
GA-Xtra™ grout is a special one-part pozzolanic cementitous formulation designed for use in grouting boreholes in Geothermal Heat Exchanger (GHEX) loop fields. GA-Xtra™ grout powder, when combined with water to the prescribed consistency, yields a cohesive grout with superior rheology for injection using positive-displacement injection equipment. Intended for full-length borehole grouting, GA-Xtra™ offers a typical thermal conductivity (k) value of 1.0 BTU/h.ftºF without the addition of silica sand or other components at the installation site. Added benefits include drought-proof performance and increased resistance to saline environments. Simplicity, reliability, and cost-effectiveness give GA-Xtra™ grout a distinct advantage over other grouting systems.
For additional information or to place an order, contact GeoEnergy Alternatives:
GeoEnergy Alternatives
15801 Lockwood Rd.
Williamsport, MD 21795
Email: geagrout(at)gmail(dot)com
info(at)geoenergyalternatives(dot)com
Tel: (828) 665-2068
(704) 568-1290
Web: geoenergyalternatives.com