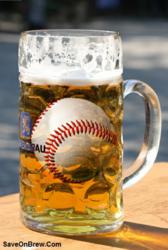 Beer has been a part of baseball forever.
Houston, TX (PRWEB) July 09, 2012
The Red Sox Clubhouse may be booze-free this season, but rest assured, baseball fans across America will be looking to knock back the world's most popular alcoholic beverage while watching a pro baseball game in 2012.
Just in time for Major League Baseball's All Star Game, SaveOnBrew.com, the world's only beer price-search engine, has conducted comparative research of every Major League Baseball stadium in America to uncover the nation's best (and worst) beer deals.
They've summarized the information in a fact-filled infographic.
SaveOnBrew research shows that the best stadiums to grab a good old-fashioned beer and enjoy a baseball game are the homes of the Arizona Diamondbacks, Cleveland Indians and the LA Angels, where beers sell for under $5.
"Kudos to 'The Big A' for delivering fans what they deserve most," explains SaveOnBrew Co-Founder Mark Davidson. "Not only did they win the World Series title in 2002, but they also sell $4.50 beers so we can get nice and loose for the 9th inning and we're all hugging our neighbors and screaming out the words to 'Build Me Up Buttercup.' That's what America is all about, isn't it?"
On the other end of the spectrum, the most expensive MLB stadiums for beer include the Boston Red Socks, Toronto Blue Jays, Florida Marlins and Minnesota Twins – where a beer sells for $7 or higher. It's hard to believe the inflation of prices over the past few decades. For example, one could buy a beer at Yankee Stadium for 55 cents in 1967, but today that same beer sells for $6.
"This War On Beer has got to stop," says SaveOnBrew co-founder James Smith. "Look, we're with Red Sox Pitcher Jon Lester when he said, 'Beer has been a part of baseball forever.' It's truly a bummer that even the Milwaukee Brewers have banned beer in their clubhouse now and that the Red Sox fans are getting almost as screwed as the poor players who are living under Prohibition rules!"
Smith suspects many fans will stay home and host their own baseball parties more often than not. He reminds fans to make sure they consult http://www.SaveOnBrew.com before shopping for beer. "It's like Google – for beer," Smith explains. "We promise you the best bang for your beer-buck."
Thirsty beer drinkers need only click to verify they are at least 21, enter their zip code and click "Beer Me" to find the lowest local advertised prices on their favorite beer brands. Mobile users get a web site customized to their platform and a map showing them the locations of their favorite on-sale brands. Thanks to the website's entertaining Cheap Beer Blog, SaveOnBrew is now receives more than 100,000 page views per month and adds new vendors and deals daily.
About SaveOnBrew.Com: Founded in 2010 to help thirsty beer drinkers across the United States find the lowest advertised prices for one of the world's most popular beverages.