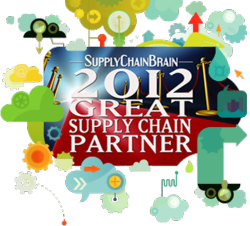 Each year the quality and quantity of nominations grows and the competition gets tougher ~ so this is a great accomplishment...
RALEIGH, N. C. (PRWEB) July 10, 2012
Open Sky Group (Open Sky – http://www.openskygroup.com), an independent consulting company specializing in supply chain software implementation, is honored to be named to SupplyChainBrain's 100 Great Supply Chain Partners. This listing, now in its 10th year, is the result of a six-month on-line poll in which supply chain professionals were asked to nominate vendors and service providers whose solutions have made a significant impact on their company's efficiency, customer service and overall supply chain performance.
Nominations were received for hundreds of trading partners in every aspect of supply chain management. The 2012 July/August issue of SupplyChainBrain magazine includes the select list of companies whose solutions and services have been so impressive, that their customers took the time to write and let SupplyChainBrain know. "Each year the quality and quantity of nominations grows and the competition gets tougher ~ so this is a great accomplishment. Our compliments to The Open Sky Group on making this select list of 100 companies who received the most qualified nominations!" said Brad Berger, Publisher, SupplyChainBrain.
Open Sky has successfully completed more than 220 supply chain software projects for clients in the industries of Third Party Logistics, High Tech, Apparel, Consumer Packaged Goods, Food & Beverage, Print/Media and more. Typical Open Sky engagements include new Software Implementations, Upgrades, Replenishment & Slotting Optimizations, MHE and ERP Integration and Parcel Systems.
Curt Sardeson, Managing Principal of Open Sky, says, "We're honored and excited to be named to this list along with our esteemed industry colleagues. We've worked hard to get here and are looking forward to continuing to earn this distinction. Congratulations to all of the 2012 Great Supply Chain Partners!"
ABOUT SUPPLYCHAINBRAIN
SupplyChainBrain (http://www.supplychainbrain.com), the world's most comprehensive supply chain management information resource, is accessed year round through a wide range of ever evolving multi-media formats by hundreds of thousands of senior level industry executives. In addition to addressing the fundamental principles of supply-chain management, SupplyChainBrain identifies emerging trends, technologies and best practices, forward thinking ideas and cutting-edge solutions ~ and continues to write and report about these as they evolve and mature.
ABOUT OPEN SKY GROUP
Open Sky Group (http://www.openskygroup.com) specializes in services for warehouse, transportation and labor management systems software. With three practices of highly experienced consultants, we strive every day to be the best consulting partner on the planet for implementing Supply Chain Software solutions. Open Sky Practices include Engineering Consulting, Implementation & Integration and Services for RedPrairie® Software.
The Open Sky Group, LLC is an independent company providing consulting services for RedPrairie® Supply Chain Software Solutions and is not affiliated with or endorsed by RedPrairie Corporation. RedPrairie® is a registered trademark of RedPrairie Corporation.