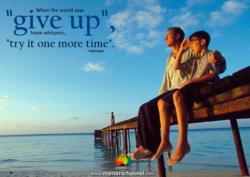 (PRWEB) July 09, 2012
Six months ago millions of people made resolutions to improve their lives: to lose weight, be happier or find a job. Masters Channel, an online source for life-changing classes on spirituality, self-help and personal empowerment has set out to find a way to provide this population with a motivational push. Customizable daily messages created by Masters Channel help people accomplish set goals throughout their lifetime by providing the daily motivation needed to make the changes that positively affect their lives.
Many people find that small words of encouragement make a big difference when it comes to achieving life goals. By visiting the InspireMe section of the Masters Channel website, the community can select their specific life goals from a list such as "I want to feel happier everyday" or "I want to lose weight". From there, the Masters Channel team takes over, sending powerful words of inspiration and motivation from people such as Eleanor Roosevelt, Martin Luther King, Jr., Audrey Hepburn and Sigmund Freud, to help the person stay on track.
These inspiring emails come in the form of beautiful images with a personalized motivational self help quote. Not only can these inspiring images be shared through social media or as e-cards to your loved ones but each comes with helpful suggestions for the user to maximize results, such as setting the image as a desktop background, save the image on the background of your mobile phone as a helpful reminder or even using it as a mantra.
The company's initiative is helping hundreds of people across the world. To join, simply visit the InspireMe section of the website and personalize your e-motivation! It's free and easy.
Find out what else this inspiring company is up to by visiting them on Facebook, Twitter and Pinterest. The Masters Channel community can be accessed at http://www.masterschannel.com. For more information please email Candice Pascoal at candice(at)masterschannel(dot)com.