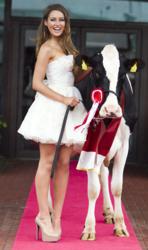 The competition underpins the quality of Baileys' ingredients - such as the fresh Irish dairy cream and Irish whiskey that contribute to its great taste. [Alan Quane, Baileys Commercial Director]
Belfast (PRWEB) July 04, 2012
With Irish farmers and Ireland's agri-food sector in general enjoying a bit of a boom, the event is expected to be watched by thousands of spectators when it takes place at the Virginia Show. But it's not just the prize money that attracts the farmers. It's the international kudos of winning the 'Baileys Champion' title that can boost the re-sale value of their herd.
"Spanning almost three decades now, the Baileys Champion Cow has become part of this brand's great Irish heritage. As the world's first and Original cream liqueur, it has become the global gold standard. The competition underpins the quality of Baileys' ingredients - such as fresh Irish dairy cream and Irish whiskey that contribute to its great taste. The brand now holds the overall world record for the number of medals awarded at the prestigious World Spirits Competition held in San Francisco each year as well as the highest overall number of double gold & gold medals, significantly more than any other cream liqueur," said Baileys Commercial Director, Alan Quane.
"Approximately 250 million litres of milk per year go into the making of Baileys®. So for all their hard work in contributing to its success, it is fitting that Baileys recognise and reward the producers of that vital raw ingredient," said Brendan Smyth the Competition Director.
For more information visit Baileys on Facebook or the Virginia Show