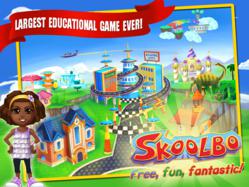 Singapore (PRWEB) July 04, 2012
Skoolbo Core Skills, the world's largest educational game ever, is now available for Samsung Android devices on Samsung Apps. Skoolbo is a free, multiplatform literacy and numeracy program designed to help 4 to 10 year olds learn to read and gain confidence with numbers.
Skoolbo has worked closely with Samsung in optimizing the program on Samsung GALAXY devices. "We are delighted to have the assistance of Samsung in helping us develop for this exciting platform," Skoolbo CEO and Founder, Shane Hill said recently.
Shane Hill explained why Skoolbo places such emphasis on development for tablets. "Devices such as the GALAXY Tab 2 are ideal for the young children we are trying to reach. They are so intuitive and four year olds have no difficulty using them independently. In many ways they are a game changer for education."
Winston Goh, Senior Product Marketing Manager for the Mobile Communications, Samsung Asia, said: "We are very pleased that Skoolbo selected Samsung as the exclusive Android partner for its portfolio of entertaining and educational content. We firmly believe this partnership will flourish as consumers turn increasingly to mobile devices for content and we look forward to working closely with Skoolbo to turn this vision into reality starting with the GALAXY Tab 2 devices."
In addition to Skoolbo Core Skills, the popular Zalairos Adventures eReaders have also been released on Samsung Apps. Skoolbo Mandarin will be available in the very near future. Currently the Skoolbo apps are designed for the GALAXY Tab 2 (7.0) and the GALAXY Tab 2 (10.1), while smart phone versions will be available later in the year.
About Skoolbo:
Skoolbo is created by a team of educators and developers spanning the globe and its headquarters is in Singapore. The company believes that technology can drastically improve learning outcomes for children by recognizing and harnessing the way children learn.
Skoolbo's e-learning programs focus on improving foundation reading and numeracy skills. The 3D racing games combine state-of-the-art technology and potent learning puzzles with the most important element of e-learning – fun. This is the underlying principle highlighted in all of Skoolbo's applications. Skoolbo provides the central elements of all of their applications for free with additional premium options available for purchase.
Skoolbo has just released Skoolbo Core Skills, the largest educational game ever at the ISTE conference in San Diego.