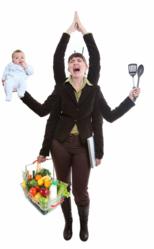 Executive business coaching works wonders, but you have to be in the frame of mind to receive its benefits first.
Dallas, TX (PRWEB) July 05, 2012
Executive business coaching company LeadershipGold4Women gets a lot of requests to help women succeed as professionals. And many times, keeping your head in the business game comes down to one simple factor: motivation.
It is, of course, an overused concept, and carries a negative connotation if you're in a funk and are content to stay there. But the fact is, executive business coaching has a lot to do with teaching people how to switch their thinking from "stuck" to "moving."
So, how does LeadershipGold4Women do it? Well, without divulging trade secrets, here are a few techniques you can use to get motivated and back in the driver's seat.
First, when you find that it's difficult to stay productive, ask yourself what's keeping you from staying on track. Are things at home on your mind? Did your boss say something that irritated you? What's the "brain butterfly" that keeps flitting your thoughts off topic? Take some time to really think about this issue, and allow yourself a few moments to truly process why it's distracting you. Sometimes simply allowing yourself to chase the butterfly will empty the distraction from your mind and allow you to get back on track.
Next, if you're feeling particularly down, make a list of five things you're grateful for, and why they mean so much to you; post that list on your desk to serve as a constant reminder. Lack of motivation is not a product of a bad life; it's a product of bad thinking. If you can find things to be grateful for, you can find things to remind you why you're working so hard in the first place. Executvie business coaching works wonders, but you have to be in a frame of mind to receive its benefits first.
Last, if you're really stuck and just can't get ahead, allow yourself to take a break. Get up and take a walk, or go run an errand you've been putting off. When you're in a rut and can't seemto get excited about getting results, sometimes you need a brief change of scenery. Think about it: even baseball games have a seventh inning stretch. Too often, we force ourselves to stay desk-bound in hopes of turning it around, but it never works. So, change it up! Even if it's just a 15-minute escape to your car to call a friend and chat, a little break can do wonders to clear your head.
Executive business coaching can be complicated, and is often a highly-involved process of evaluation, strategizing, implementation and accountability. And in order for it to work, the recipient must always possess one simple quality: motivation. If you'd like to find out more about executive business coaching, and what LeadershipGold4Women can do for you, contact us today at 800.210.2601.
About LeadershipGold4Women:
LeadershipGold4Women is an executive business coaching company that focuses on bringing women from where they are to where they want to be. Using proven techniques to drive results, LeadershipGold4Women uses women's business coaching as a platform to create diversity and leadership for women as professionals in the workplace.
For more information, visit LeadershipGold4Women on the web.
Or, contact LeadershipGold4Women at 800.210.2601.