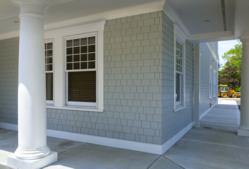 5" Exposure HardieShingle® achieves a look characteristic of Eastern white cedar shingles while offering durability and low maintenance.
Chicago, IL (PRWEB) July 10, 2012
James Hardie Building Products Inc. (JHX: US), the world's leading manufacturer of fiber cement building products, announced the standard market release, including job packs, of all 23 colors of 5" Exposure HardieShingle® Straight-Edge Panels and Individual Shingles with ColorPlus® Technology in the Philadelphia and New England regions.
With 5" Exposure HardieShingle® Straight-Edge Panels and Individual Shingles with ColorPlus Technology, architects, builders, contractors, and homeowners can achieve a look characteristic of eastern white cedar shingles while capitalizing on the long-lasting, low-maintenance benefits of a complete James Hardie exterior. Similar to cedar shingles, these new products provide true keyways between shingles and can be used to create woven/laced corners, creating an authentic cedar shingle look and feel.
Like all James Hardie siding products, HardieShingle is Engineered for Climate™ providing lasting durability and protection from heat, rain, humidity, snow and other regional specific climate conditions. Through its proprietary ColorPlus Technology, James Hardie applies multiple coats of paint to its siding products in the factory to optimize paint adhesion and slow fading, revealing a consistent, long-lasting finish in more than 20 colors.
5" Exposure HardieShingle Straight-Edge Panels and Individual Shingles are backed by James Hardie's standard 30 year non-prorated, limited product warranty. Plus, superior paint performance with ColorPlus Technology is backed by a 15 year limited finish warranty.
Learn more and view a gallery of homes at http://www.hardieshingle.com.
Search for color and product availability at http://www.jameshardie.com.
About James Hardie:
James Hardie is the global leader in fiber cement technology, providing siding, trim and accessory product solutions to architects, builders and homeowners for more than 100 years. It was the first to introduce fiber cement products to the U.S. in the early 1990s as a durable, low-maintenance alternative to wood and vinyl. James Hardie products combine innovation, versatility and safety by offering a variety of design possibilities matched with specific performance attributes relative to the climate where the product is being used. Currently installed on more than 5.5 million homes, James Hardie products have earned a favourable reputation within the industry and have been specified in some of the country's most prestigious projects. For more information about James Hardie, visit http://www.jameshardie.com.