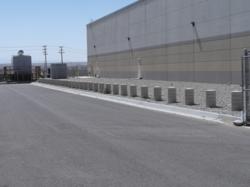 Manchester, CT (PRWEB) July 09, 2012
Dawn Enterprises, Elite manufacturer of Concrete Bollards, has supplied Twenty-Nine Palms US Marine Core Base in California, with 65 Concrete Bollards in order to protect their new commissary. Dawn Enterprises' bollards were selected for their solid construction providing the base with maximum protection and strength.
Due to the importance of security at all US military bases, Dawn Enterprises was honored to be chosen to manufacture the concrete bollards the military would depend on to protect their new commissary. Dawn Enterprises has produced bollards for US military bases in the past and is glad to be involved with designing and manufacturing security measures that carry such importance.
Concrete bollards are commonly used by commercial and residential properties for pedestrian and vehicular traffic barriers. Available in a variety of styles, colors and finishes, concrete bollards are designed to enhance security and protection from accidents and act of vandalism while keeping your property aesthetically pleasing.
Dawn Enterprises is located in Manchester Connecticut, and produces and sells concrete, steel, plastic, stone aggregate and recycled site amenities including: bollards, trash cans, planters, tables, and more. For more information on the company please visit http://www.godawn.com or call one of their friendly sales representatives at 1-800-262-3296.