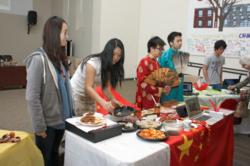 Granby, MA (PRWEB) July 03, 2012
On Saturday, April 28, 2012, MacDuffie students from more than 20 countries provided an insight to their individual cultural backgrounds through cooking demonstrations of their native cuisines, traditional clothing exhibitions, arts and crafts, irresistible musical performances, traditional dances, power point presentations of cities and native landmarks, and engaging their audience in all the wonders of the world we share.
The audience was comprised of students and parents assembled for our first annual Run for Hope, who had the added benefit of learning about our students' cultural backgrounds at the Festival.
In addition, MacDuffie alumni who were attending Reunion activities on that same day, celebrated the School's long history of cultural diversity by joining in the Festival activities with current students. What a great opportunity for our alumni to reconnect and to make new friends and connections with their beloved alma mater.
Kudos to the student chefs and performers whose fine cuisine and music sent wafts of delectable aromas and tunes floating through hallowed halls of The MacDuffie School.
We look forward to expanding this International Celebration in the years to come!
Kevin Hillman, International Festival Advisor and World Languages Department Chair