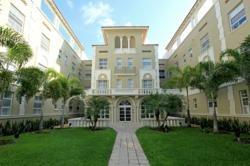 "This magnificent building is an architectural gem...the South Beach location is absolutely fantastic."
Miami Beach, FL (PRWEB) July 10, 2012
Finlay Management, Inc. has added a new property to its fee management portfolio. RJF-20th & Park, LLC has chosen Finlay Management, Inc. for the management of The Granite at Miami Beach. Previously the Riviera, the property was re-named as part of the takeover, rebranding program. The Granite at Miami Beach is the first asset to carry the new Granite brand name. Since Finlay Management took over the management, the property has been 100% occupied.
The Granite at Miami Beach is located in the heart of South Beach, within a short walk to the ocean, and around the corner from the Bass Museum and the Miami Beach Convention Center. Jeff Goldshine, president of Finlay Management, Inc. says "This magnificent building is an architectural gem with its Palladian windows, arches and stone balustrades. And the South Beach location is absolutely fantastic." The central location provides easy walking access to the entire South Beach area. In addition, the site offers access to public transportation.
The Granite at Miami Beach is located at 337 20th Street, Miami Beach 33139. It offers one- and two-bedroom floor plans. The community is gated and is served by an elevator. The office phone number is 786-439-9503. For photos and more information, visit GraniteAtMiamiBeach.com.
Finlay Management, Inc. is a multifamily property management firm with a thirty-year history in high-end apartments, affordable housing, and senior living. With offices in Texas and Florida, it focuses on fee management throughout the Southeast and Texas. The company is actively expanding and seeking third-party management opportunities. For more information, visit http://www.FinlayManagement.com.