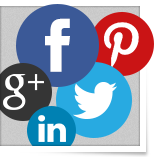 Add social share buttons to your newsletters, then track social reactions and engagement.
Wilmington, DE (PRWEB) July 05, 2012
GetResponse, a leading email marketing provider for small businesses, today released a new enhancement that tracks and reports how email campaign messages are shared in social networks.
"Our vision was to take the guesswork out of social sharing," said Simon Grabowski, GetResponse founder and CEO. "Now marketers can easily add social share buttons to their newsletters, then track social reactions and engagement".
How It Works
When subscribers enjoy newsletters they receive, they can share them by clicking on familiar social buttons. GetResponse measures these reactions and generates revealing reports that provide marketers with insight of how and where emails are shared in social networks.
Social Sharing Tools
1. Social Sharing buttons are available in the Email Creator interface. They include the most influential and popular social networks: Facebook, Twitter, LinkedIn, Google+, and — one of the first in the market — Pinterest. Once dragged 'n dropped on the email newsletters, these buttons are "plug 'n play", requiring no additional configuration by the marketer.
2. Social Sharing statistics are available as an additional tab in Email Analytics. Easy-to-read graphs and charts provide a bird's-eye view of the level of engagement in each social channel. They also quantify reader reactions: tweets, likes, pins, +1's and LinkedIn shares, as well as retweets, re-likes and FB comments.
Why Social Sharing Matters
With new social sharing features from GetResponse, email marketers can now identify and target highly engaged social networks, then optimize future marketing campaigns to these channels.
"Email marketers have an ongoing need to expand into new, profitable markets," said Simon Grabowski. "Social Sharing enables them to identify and target those markets with pinpoint accuracy."
Social Sharing in Action
As of today, the Social Sharing tools are available for unlimited use inside all GetResponse accounts.
To try them out, sign up for a GetResponse 30-Day Free Trial at: http://www.getresponse.com/create_free_account_trial.html
For more information about the new enhancement, follow these links:
http://www.getresponse.com/features/social-sharing.html
http://blog.getresponse.com/join-us-in-the-social-sharing-revolution.html
About GetResponse
GetResponse, the World's Easiest Email Marketing, is designed to increase email marketing ROI faster than any other medium for small businesses and Enterprise customers. As the flagship product of Implix and a leading email marketing platform for the past 12 years, GetResponse collaborates with major ISPs and industry associations to ensure the best in email delivery technology, permission-based marketing and best practices, achieving average 99.3% deliverability rate. GetResponse has grown to over 250,000 active users from 183 countries, delivering 10 billion permission-based emails per year.
Learn more at http://www.getresponse.com
###