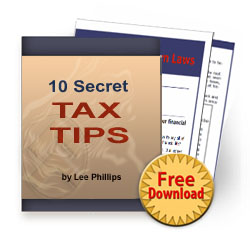 "It is up to each American to learn about tax deductions and tax breaks, then figure out how they can lower their taxes
Siesta Keys, FL (PRWEB) July 03, 2012
Tax deductions and tax breaks are the subject of great concern right now. CEO and attorney, Lee R. Phillips, maintains that after Obamacare was declared a tax by the United States Supreme Court, the average American is going to be desperate to find every tax deduction and tax break available.
"Independent of one's opinion of Obamacare as a health care law, it is a gargantuan tax bill, and it's nice to have somebody finally say that," says Phillips. He continues, "the economic impact of Obamacare conveniently isn't scheduled to hit the general public until after the 2012 election. The taxes associated with the new health care bill start January 1st, 2013."
In March, the Congressional Budget Office estimated the true 10-year cost of Obamacare is $1.76 trillion. That's nearly double the original estimated cost of Obamacare, according to the report.
"Obamacare is a straight up tax that will be borne by the middle class, and it's huge," said Phillips. "They will need every tax deduction and tax break they can get."
See the latest tax breaks that can help lower taxes
"Seventy-five percent of the Obamacare tax hikes will fall on Americans earning less than $120,000 a year," said a statement from the Republican minority of the Senate budget committee.
One example of the tax increases comes in an increase in the capital gains tax. In 2012 the capital gains tax rates are 15%, 15%, and 35%. In 2013 and beyond they go to 23.8%, 43.4%, and 43.4% "There are dozens of taxes hidden within Obamacare in the form of penalties and straight up taxes," Phillips says.
Many advisors and economists are calling the taxes that will be imposed on January 1st 2013 "Taxmageddon." "It will definitely be the largest tax increase in history. In spite of what President Obama has said, the middle class will be hit hard," said Phillips.
In fact, the average American family making under $100,000 a year can expect to pay somewhere between $3,000 and $6,000 extra in taxes next year. The Heritage Foundation says, "At the end of the year, some $500 billion in tax breaks expire all at once, hitting American households with an average tax increase of $3,800."
There are tax deductions and tax breaks that will survive "Taxmageddon," Phillips says. "It is up to each American to learn about tax deductions and tax breaks, then figure out how they can lower their taxes," he said.
The sting of new taxes will be felt by everyone, even the lower middle class. People who didn't even pay taxes will be paying. If you classify Obamacare as a tax law, everyone, even the poor, will be paying substantially more in taxes next year.
Visit Lee's official site to download ten free tax tips that will help taxpayers survive Taxmageddon.