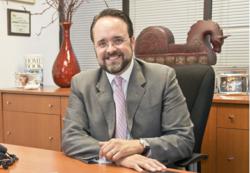 ClientCenter.pro allows us present real estate opportunities to our clients like never before.
Miami, FL (PRWEB) July 05, 2012
Setting in motion its revolutionary plans, Interinvestments Realty is introducing a new technical tool that will be fully integrated into its existing platform.
The new tool, ClientCenter.pro is a contact management system that will allow our associates to keep records and monitor activities, while maintaining contact with their clients.
Celebrating the launching of ClientCenter.pro, on Tuesday, July 9th, 2012 at noon, we will have a luncheon-presentation in our Corporate Offices, located at 730 NW 107th Avenue, Suite #120, Miami, Fl. The presentation will be followed by a complete training session for our associates, who will be able to learn right away how to implement and use this new technical device.
The introduction of this tool could not be timelier, as recent data by the National Association of Realtors reveals that 90% of all homebuyers start their property search on the Internet. This fact makes it imperative for any real estate firm to maximize their marketing efforts by actualizing the quality of their technological capability, just to be able to compete in the current marketplace.
"The technological era is no longer in the future, but its here now, for us to use…Accordingly, we have increased our website presence, intensified our Internet marketing and added more digital tools to maximize an optimum interconnection with our clients," says Emilio J. Cardenal, Broker/President of Interinvestments Realty.
"ClientCenter.pro is a key element in our luxury website, Agenttoolbox.pro, which organizes seven different technical tools into an integrated database. This platform provides everything needed to create polished marketing materials, like fliers, postcards, newsletters, etc. In addition, sustains personal websites, supports training materials and educational courses and seminars, amid other tools which will improve our lead generation, optimize website placement and finally will provide a control management system for clients and documents," explains Cardenal. "It is exclusively designated for the use of Interinvestments Realty's associates."
For more information regarding our luncheon-presentation, any special sales opportunity, how to participate in our competitions and contests, join our sales team or be an affiliated Broker, please contact us by email at: affiliate(at)interinvestments(dot)com or just call us at (305) 220-1101.
Join the Revolution of Success! Participate! Affiliate with the Best!