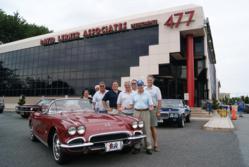 Syosset, NY (PRWEB) July 04, 2012
David Lerner Associates, a financial investments company with corporate headquarters in Syosset, NY, has once again partnered up with the Centurion Cruisers Car Club to host the 3rd Annual David Lerner Associates Charity Car Show. As in previous years, all proceeds from the show will benefit the Nassau-Suffolk Chapter of the Autism Society of America. The Car Show will take place on Sunday, July 8, 2012 from 9:00 a.m. to 3:00 p.m. at David Lerner Associates headquarters, located at 477 Jericho Turnpike, Syosset.
"All of us at David Lerner Associates are looking forward to this year's Charity Car Show," said David Lerner, founder and CEO of David Lerner Associates. "We've had a great turnout in years past, packing the house with over 100 cars on display. We're expecting this year to be just as successful. It's great to be able to raise money for such a charitable cause while having a great time with the members of the community."
Proceeds from the event will go to the Nassau-Suffolk Chapter of the Autism Society of America to assist in their mission to provide lifelong access and opportunity for all individuals within the autism spectrum and their families.
Community members are invited to attend the show free of charge, and will be able to view several generations of automobiles from a variety of manufacturers. Car owners interested in participating in the Charity Car Show can register their automobile for $15 by contacting Investment Counselor Alex Barnych at 516-465-5061 or Investment Counselor Peter Testani at 516-465-5058. The registration fee includes lunch on the day of event. Participating cars will be limited to the first 120 to register. Those who cannot attend the event but would like to contribute to this great cause can make a donation through the same channels.
For more information on David Lerner and Associates, please visit http://www.davidlerner.com or call David Lerner and Associates at 1-877-367-5960. To contact the Centurion Cruisers Car Club, email CCcarclub(at)aol(dot)com. For more information about donating or volunteering with the Nassau-Suffolk Chapter of the Autism Society of America, visit http://www.nsasa.org.
About:
Founded in 1976, David Lerner Associates (DLA) is a privately-held investment company. DLA's headquarters are in Syosset, New York and has branch offices in Westport, CT; Boca Raton, FL; Teaneck, NJ; White Plains, NY; and Princeton, NJ.