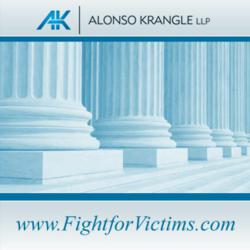 Alonso Krangle LLP is offering free legal evaluations to any woman who sustained a life-changing injury following treatment with a transvaginal mesh device. Call today 1-800-403-6191
Melville, NY (PRWEB) July 03, 2012
Andres Alonso and David Krangle, founding partners of Alonso Krangle LLP, a national law firm committed to fighting for the rights of those injured by defective medical devices, are investigating potential transvaginal mesh lawsuit claims also known as bladder sling, lawsuit claims stemming from serious injuries associated with the use of transvaginal mesh products in the surgical repair of pelvic organ prolapse (POP) and stress urinary incontinence (SUI). The U.S. Food & Drug Administration (FDA) continues to study the safety of transvaginal mesh used in POP and SUI repair, following reports that such devices had caused serious injuries, including erosion through vaginal tissue, pain, infection, bleeding, pain during intercourse, organ perforation during placement, and urinary problems. (http://www.fda.gov/MedicalDevices/ProductsandMedicalProcedures/ImplantsandProsthetics/UroGynSurgicalMesh/ucm2025152.htm)
Alonso Krangle LLP is offering free legal evaluations to any woman who sustained a life-changing injury following treatment with the following transvaginal mesh products:
American Medical Systems' Elevate Surgical Mesh, Perigee and Apogee products
Boston Scientific's Transvaginal Mesh Pinnacle and Uphold devices
C.R. Bard Inc.'s Transvaginal Mesh, Avaulta, Pelvisoft BioMesh, Pelivicol Acellular Collagen Matrix, Pelvitext, and Pelvilace products.
Johnson & Johnson's Ethicon unit's Transvaginal Mesh Gynecare, Gynemesh, Gynecare Prolift, Gynecare Prolift+M, Gynecare Prosima and Gynecare TVT transvaginal mesh devices.
If you or a woman you care about experienced erosion and extrusion of mesh, perforation of organs, vaginal bleeding, chronic infection or pain following the transvaginal placement of any of these surgical mesh products, please contact Alonso Krangle LLP by calling 1-800-403-6191 or visit our website, http://www.FightForVictims.com.
The transvaginal mesh lawyers at Alonso Krangle LLP were disturbed to learn recently that Johnson & Johnson's Ethicon unit continued marketing its Gynecare Prolift transvaginal mesh product for nine months, after being told by the FDA to halt sales of the device. According to a report from Bloomberg News, Johnson & Johnson began selling Gynecare Prolift in 2005, believing FDA clearance was not required since Prolift was similar to a previously marketed device. It was only in 2007, when Ethicon applied for approval of the Prolift+M product that the FDA learned the company was selling Gynecare Prolift. At that time, Johnson & Johnson was notified that it would need to submit a 510(k) application for Gynecare Prolift. In a letter dated August 24, 2007, the FDA told Johnson & Johnson that it could "not market this device until you have provided adequate information." The letter further warned that continued sales of Prolift would be a "violation of the Federal Food, Drug and Cosmetic Act." Johnson & Johnson, however, did not suspend sales of Gynecare Prolift. According to Bloomberg, the device was finally cleared for sale by the FDA nine months later, but the agency never imposed any sanctions on Johnson & Johnson for its continued marketing of Gynecare Prolift. (http://www.bloomberg.com/news/2012-06-26/j-j-sold-vaginal-mesh-implant-after-sales-halt-ordered.html)
In June 2012, Johnson & Johnson confirmed that Ethicon would end worldwide sales of Gynecare Prolift, as well as the Gynecare TVT Secure, Gynecare Prosima, and Gynecare Prolift+M products by the first quarter of 2013. According to a report from The Wall Street Journal, Johnson & Johnson insisted that the decision to end sales of the four Gynecare products was not driven by concerns over their safety. However, the company has acknowledged that its mesh products have been named in hundreds of product liability lawsuits alleging the devices had caused serious complications in women who had them implanted to treat POP or SUI.
(http://www.online.wsj.com/article/SB10001424052702303506404577448422586204212.html)
According to Alonso Krangle LLP, hundreds of women have filed personal injury lawsuits against the makers of transvaginal mesh devices. Four consolidated transvaginal mesh litigations involving products manufactured by Ethicon (MDL No. 2327), American Medical Systems, Inc. (MDL 2325), Boston Scientific Corp. (MDL No. 2326), and C.R. Bard (MDL 2187) are currently pending in U.S. District Court, Southern District of West Virginia. The first bellwether trial in the C.R. Bard litigation is scheduled to begin in February 2013. (http://www.bloomberg.com/news/2012-05-02/bard-faces-first-federal-trial-over-vaginal-mesh-next-year-1-.html)
There is still time for women injured by transvaginal mesh to file suit in one of these litigations. To discuss a potential lawsuit claim with one of the experienced and compassionate transvaginal mesh lawyers at Alonso Krangle LLP, please contact us at 1-800-403-6191 or visit our website.
About Alonso Krangle LLP
Andres Alonso and David Krangle, attorneys with almost 40 years of collective legal experience, have focused their law practice on the handling of significant personal injury cases, defective drug and medical device litigation, construction site accidents, nursing home abuse, medical negligence, qui tam/whistleblower actions and consumer fraud cases. A national law firm representing injured victims throughout the U.S., Alonso Krangle LLP is headquartered in Long Island, New York, with offices in New York City, and plans to open additional locations in New Jersey.
For more information about Alonso Krangle or to join the fight and be a part of our team, please contact us at 1-800-403-6191 or visit our website, http://www.FightForVictims.com.
Contact:
Alonso Krangle LLP
445 Broad Hollow Road
Suite 205
Melville, New York 11747
Toll-FREE 1-800-403-6191
Tel: 516-350-5555
Fax: 516-350-5554