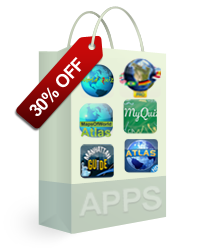 San Jose, CA (PRWEB) July 03, 2012
MapXL, the leading developer of mapping and atlas-based apps for iOS and Android, has announced a 30% discount on all its products as part of the July 4 celebrations. MapXL is a wholly owned subsidy of MapsofWorld.com, the world's leading map and information portal.
MapXL announced that the discount would be available on all its products at the iTunes store, including the best-selling apps - World Atlas Pro (now available for $6.99), World Atlas and Maps - HD (now available for $0.99), Manhattan City Guide (now available for $1.99), My World Atlas (now available for $0.99) and My Quiz (now available for $0.99).
MapXL has been catering to the mapping needs of iPad and Android users with tremendous success. The mapping portal, MapsofWorld.com, offers digital and flash maps, globes, atlases, customized maps, and travel guides.
About the company:
MapsofWorld.com is a multilingual portal offering high-quality maps and information across geographies and platforms. With special focus on educational content, the portal has thematic as well as interactive maps on all major platforms: Web, iPhone, iPad, iPod, and Android. World Atlas and World Quiz are two highly successful educational apps. Other services offered are custom mapping, content digitization, and the online map store.
For more information, please contact:
MapXL Inc.
10 S. Third Street, Suite 310,
San Jose, CA 95113
social(at)mapsofworld(dot)com