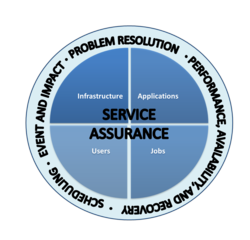 A&I helps organizations achieve their full potential by driving consistency and maximizing efficiency.
Atlanta, GA (PRWEB) July 05, 2012
As a member of the Service Assurance Team, Richard Green has proven to be a vital component to the success of A&I Solutions. For the past seventeen years, he has devoted his time to various positions in Enterprise Software Architecture. As a technical consultant for A&I Solutions, Richard specializes mainly in Java Platform working closely with the CA product line. Richard recently celebrated his one year anniversary with A&I Solutions. Throughout the year with the company, he has had the opportunity of experiencing the joys and challenges of his position. Richard explains, "The highlight of my professional experience is the end result of a process that begins with taking time to understand the painful software issues of the customer, and then working with a team to deliver a tangible solution that allows the customer to quickly forget the previous headaches." A&I Solutions is proud and thankful for an employee of his stature.
Since working with A&I Solutions, Richard has worked with a number of companies, such as, Wells Fargo, Verizon Wireless, Duke Energy, Liberty Mutual, Northwestern Mutual, Broadridge Financial, and C&S Wholesale Group.
Success Story:
For the last eight months, Richard has been working with the same company. He has devoted a vast amount of time and energy to this project and it really shows. While working with the customer, he implemented a CA APM solution and installed and configured various tools and programs: APM Enterprise Manager Cluster; Introscope Java and .NET agents; a variety of EPAgents; Customer Experience Manager (CEM); Transaction Impact Manager (TIM); Wily Transaction Generator (WTG); Embedded Entitlements Manager (EEM).
Letter of Appreciation:
"Hi Ranga and John,
I am the Software Team Lead for the OMS/DMS project, and I wanted to send a short note to acknowledge Richard Green's assistance and our appreciation.
(Note: I do not often send these things, but really wanted to in this situation)
Richard has been working with the OMS/DMS team on-and-off for 6+ months. We started with an application with no monitoring (and many issues), and Richard helped guide and implement what is now a very good monitoring system. I am very pleased with the end result and much of the success is attributed to Richard's recommendations and assistance. It is extremely helpful to understand key application errors and warnings before the clients see or call us. Richard worked very hard, listened, learned to understand our system and processes, and provided excellent recommendations. Richard is also pleasant and fun to work with – he is a "good guy". We will miss him.
Richard has also been very patient with some of us non-Java people (e.g. me), and has helped us understand Java components and processes. Last week, I was able to communicate GC Heap, allocated memory, GC cycle time, how a memory leak is analyzed using Introscope, and how we want to monitor this issue with warning and critical alerts. [The week before, I could not have told anyone what GC Heap even meant! Richard helped make me look good.]
Anyway, I just wanted to express our appreciation of Richard. I give him an A+ for his consulting services."
About A&I's Service Assurance
A&I Solutions' Application Performance Management and Monitoring team is a premier Direct Managed Partner and service provider of CA Service Assurance and Application Performance Management. Our Network Performance Management tools can help you continuously monitor application delivery across physical, virtual, and cloud environments. Ultimately, our team of experts assures that end-to-end application response times meet or exceed SLA's and business requirements. A&I Solutions has extensive experience in APM Introscope, CEM, DB Insight, Spectrum, eHealth, Nimsoft and Service Operations Insight.
About A&I Solutions
A&I Solutions is North America's premier provider of integrated enterprise solutions, dedicated to implementing solutions from CA technologies. A&I Solutions provides enterprise products and services to help companies achieve the highest level of performance. We focus on the best rated products and extensive experience to deliver comprehensive integrated Enterprise Solutions. Working with enterprise management, resource planning, service assurance, security and infrastructure monitoring, A&I helps organizations achieve their full potential by driving consistency and maximizing efficiency. Our proven methodologies, innovative best practices and deep technical experience produce better business results for our Customers. A&I has expertise across all IT environments - physical, distributed, cloud, virtual and heterogeneous platforms. We specialize in the following: CA Security Suite, CA Clarity, CA Wily - Introscope, CEM, SOI, NetQoS, Reporting - Business Objects, Crystal Reports, Actuate Reporting, Enterprise Integrations.
For more information please visit http://www.anisolutions.com .