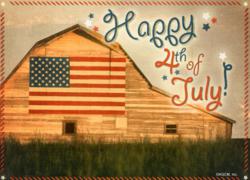 Cleveland, OH (PRWEB) July 03, 2012
Fourth of July celebrations evoke nostalgic times in America. Memories of sitting on Dad's shoulders to watch grand parades, bountiful picnics savoring secret family recipes, and fireworks spectaculars led by patriotic orchestrations have all been captured in the nation's spirit over the years. Celebrate that spirit and share that sentiment among family and friends by exchanging 4th of July ecards available at Americangreetings.com from the American Greetings Corporation.
The diverse selection of electrifying 4th of July ecards celebrates America's birth in a number of eye-catching styles. Traditional designs capture the nation's history with a choice of iconic images or glorious fireworks displays accompanied by patriotic tunes. Talking ecards create that personal 4th of July touch among cuddly creatures with customizable voice messaging.
Be sure not to miss the collection of ecards featuring the music of Jim Brickman with "Independence Day Anthem" and "A Hero's Dream."Creating an atmosphere unlike any other, these ecards take recipients through images of Americana while they relax to the soothing sounds of Brickman's accompaniment.
With so many memorable designs to choose from, 4th of July ecards are fun to email family and friends as a holiday movie treat, post to someone's Facebook page, or send to their mobile phone. They're a great way to stay in touch this summer, and perfect for wishing those far away a Happy 4th of July!
To view the entire collection of 4th of July ecards and browse customization options for each, visit http://www.americangreetings.com.
About American Greetings Corporation
For more than 100 years, American Greetings Corporation (NYSE: AM) has been a creator and manufacturer of innovative social expression products that assist consumers in enhancing their relationships to create happiness, laughter and love. The Company's major greeting card lines are American Greetings, Carlton Cards, Gibson, Recycled Paper Greetings and Papyrus, and other paper product offerings include DesignWare party goods and American Greetings and Plus Mark gift-wrap and boxed cards. American Greetings also has one of the largest collections of greetings on the Web, including greeting cards available at Cardstore.com and electronic greeting cards available at AmericanGreetings.com. In addition to its product lines, American Greetings also creates and licenses popular character brands through the American Greetings Properties group. Headquartered in Cleveland, Ohio, American Greetings generates annual revenue of approximately $1.7 billion, and its products can be found in retail outlets worldwide. For more information on the Company, visit http://corporate.americangreetings.com.