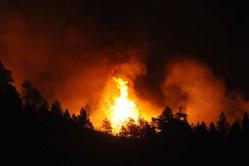 Giving city staff the ability to map and document damage quickly and accurately, will help them in their efforts to rebuild
(PRWEB) July 03, 2012
PublicStuff, the innovative web and mobile based public service request management system, is donating its services for free to the towns and counties affected by the recent forest fire outbreaks. Through the web and mobile platforms, residents are able to report nonemergency service requests like roadblocks, debris and leftover damage, and have those requests sent directly to the appropriate city department and staff member. City staff will also be able to use the mobile tools and geo-locating technology to document damage and expedite federal aid.
Photo-mapping has been used by many counties like Accomack County, Virginia and Webster County, Missouri to successfully document damage and debris caused by natural disasters. The quicker damage can be documented, recorded, and sent to the appropriate federal department, the quicker federal aid can be disbursed to help rebuild communities in need. PublicStuff helps to ease and expedite this process with mobile tools that may be used to easily upload photos, accurately map out locations of debris and damage, and document the information with correlating data. The corresponding data may be easily accessed and exported so it may be sent to appropriate federal departments, organizations and more, virtually immediately.
Local governments in these affected forest fire zones will also be granted access to the backend workflow suite in order to manage and process publicly reported requests, as well as documented damage in an efficient, organized manner. These agencies may also embed the web portal on their website so residents can submit damage and cleanup requests online directly through their respective town/county's website. For residents without internet access, they may use their mobile phones to report issues, regardless of their wireless provider via text, tollfree or through the iPhone, iPod touch, iPad, Blackberry and Android PublicStuff applications.
"At PublicStuff, we are committed to improving communities and enhancing the quality of life for every citizen. As such, we want to help communities that have been affected by natural disasters. We understand this is an overwhelming and devastating time for many people. We hope that enabling an easy way for citizens to report the nonemergency damage around them and giving city staff the ability to map and document damage quickly and accurately, will help them in their efforts to rebuild their community and spirits during this trying time." stated Lily Liu, CEO and Founder of PublicStuff.
Government agencies can take advantage of this donation immediately by registering at account.publicstuff.com/register and entering their city name with the code FREE, or by emailing team(at)publicstuff(dot)com. A PublicStuff representative will respond within 24 hours to setup the system and walk them through the process. To access any of the public services, please visit the following links:
Online Portal: http://www.publicstuff.com
iPhone App: http://www.publicstuff.com/iphone/
Android App: http://www.publicstuff.com/android/