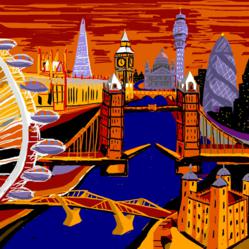 Chris, I was very impressed by your pictures. You glance at them initially think you understand ​them and then realise you don't. Henry James, London.
London (PRWEB UK) 5 July 2012
In June 2012, artist Chris Langley learned he won a place at the Islington Art Summer Salon exhibition in London.
The painting chosen is 'London: Past and Present' which celebrates the contrast time has given London in its many building styles. From the London Eye to St.Pauls, Westminster to The Shard. Chris says: "The painting is a representation in an impressionist montage style, and not to be taken as geographically correct."
Chris continues: "I have been painting for over 30 years, but only since February 2012 I been promoting and exhibiting my work; I have a range of styles that can be seen on my website. I like to be challenged and see variety as a way to expand my horizons."
A private viewing will be held at The Islington Arts Factory, 2 Parkhurst Road, London, N7 0SF on 20th July 6.30-9.30pm. The exhibition starts 20th July through 10th August.
Chris Langley's artwork is sponsored by Matol Km, the natural herbal drink that gives you more energy and better skin.