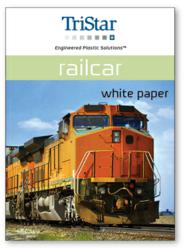 By unveiling innovative solutions to common rail application challenges, this paper will become a guide that designers will refer to again and again
Shrewsbury, MA (PRWEB) July 11, 2012
TriStar Plastics, a leader in engineered plastics solutions, announces a new white paper entitled, "Railcar Manufacturing – Tracking Advances for Improved Safety, Reliability and Efficiency." This complimentary paper reveals how new composite and polymer fabricated parts are outperforming traditional steel, bronze and wood materials in a variety of rail freight and light transit applications.
"The rail industry is growing exponentially, just as industry experts are calling for improved safety and performance standards," said Richard Cedrone, CEO of TriStar Plastics. "We've designed materials that can help our manufacturing partners exceed those standards, such as durable bearings that last millions of rail miles, and polymer fabricated parts that are specially treated to resist fire," he states.
"By unveiling innovative solutions to common rail application challenges, this paper will become a guide that designers will refer to again and again," Cedrone adds.
TriStar's line of Ultracomp®, TriSteel™ and CJ self-lubricating bearings are the go-to materials for rail applications such as brake beams, calipers, emergency devices, bushings, switch boxes, and right-of-way equipment. The company also custom fabricates transit station components that are highly regarded for their durability and low maintenance.
Download your free copy of the Railcar Manufacturing White Paper to learn about the latest rail bearing innovations.
About TriStar Plastics
Founded in 1982, TriStar Plastics Corp. is a forerunner in the engineering, fabrication and manufacturing of high-performance polymers, composites and self-lubricating bearing materials. Offering more than 300 different types of plastics and a complete line of bearings, TriStar provides materials across a broad range of industries. The company also pioneered the concept of using chemicals to alter plastic materials for enhanced surface modification. TriStar is headquartered in Shrewsbury, MA, with offices in North Carolina, Illinois, Southern California, and Texas.