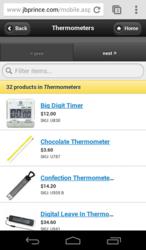 Website Pipeline announces launch of mobile technology that integrates with Sage 100 ERP
(PRWEB) July 05, 2012
Websitepipeline.com has launched its first 2 mobile sites that integrate with Sage 100 ERP – MAS 90 & MAS 200. JB Prince ( http://www.jbprince.com ) and Morris Products (http://www.morrisproducts.com ) are users of Sage 100 ERP, formally known as MAS 90 and MAS 200. Website Pipeline originally provided solutions that would allow these companies to sell their products online to B2B and B2C customers while seamlessly integrating sales order entry, inventory management, and sales order history bi-directionally into their current Sage 100 ERP / MAS 90 and MAS 200 software.
Website Pipeline completed a second phase to these projects by creating a mobile friendly interface that also integrates seamlessly with their Sage 100 ERP / MAS90 and MAS200 software. All product categories and product details are managed in Sage ERP. Any information that is not stored in the ERP is managed through web based control panel.
Website Pipeline has a bi-directional integration between our B2B/B2C eCommerce websites and Sage 100 ERP, MAS 90/200, versions 3.71 and higher. The integration uses a sync tool which identifies the data that needs to be transferred, queues it up, and then completes the transfer. In versions 4.4 and higher we utlize the web services functionality within Sage MAS 90/200 in the integration.
To learn more about eCommerce integrations with Sage 100 and MAS90 / MAS200 visit http://www.websitepipeline.com