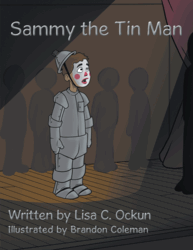 "Death is a part of life, and people seem afraid to discuss this subject with children," says Ockun. "When children face the death of a loved one, they are usually ill-prepared. I feel that music and theater can be great outlets for grieving children."
New York, NY (PRWEB) July 05, 2012
Losing a loved one is difficult at any age, but for a child, if not handled properly, it can be devastating with irreversible, long-term effects.
Retired teacher Lisa Ockun has released a coping tool for children dealing with the loss of a family member in "Sammy the Tin Man" (published by AuthorHouse). Her novel about Sammy, a ten-year-old boy who has recently lost his father, demonstrates the therapeutic effects of creative art programs in schools.
Ockun's main character is based off of a former student who performed in her school's fifth grade production of "The Wizard of Oz." After giving an outstanding performance, he continued his interest in the arts and eventually went on to pursue a degree in theater. This experience, along with Ockun's recent loss of a parent, inspired her to share his story with others who are experiencing a similar situation.
"Death is a part of life, and people seem afraid to discuss this subject with children," says Ockun. "When children face the death of a loved one, they are usually ill-prepared. I feel that music and theater can be great outlets for grieving children."
With 27 years of teaching and 15 years of musical directing under her belt, Ockun has worked with numerous children over her career. In "Sammy the Tin Man," she teaches kids to reach for their goals, cope with loss and always remember that their loved ones have not completely left them.
"Sammy the Tin Man"
By Lisa C. Ockun
Paperback: $19.99
ISBN: 978-1-4685-4328-5
Available at: amazon.com and barnesandnoble.com
About the author:
Lisa Ockun is a retired fifth grade teacher, an occupation she held for 27 years. She has spent her whole life working with children, also acting as a math lab instructor, cheerleading coach and musical theater director. She attended Queens College and currently serves as a Mary Kay consultant and author from her home in Mastic Beach, N.Y.
# # #
Editors: For review copies or interview requests, contact:
Publicist: Dassie Rice
drice(at)bohlsengroup(dot)com| 317.602.7137
(When requesting a review copy, please provide a street address.)