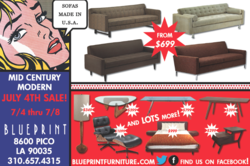 I'm here at Blueprint and I want to take everything home, so many lovely things!! Sally A - YELP Review 6/12/12
Los Angeles, CA (PRWEB) July 04, 2012
Blueprint Furniture, Los Angeles will be making its own fireworks for the week of July 4! From July 4 through July 8, prices on mid-century modern furniture designs will be slashed! Blueprint Furniture's mid-century modern sofas are made in the U.S.A. too! Don't miss this opportunity to find that new table, sofa, chair, chaise or desk you have been yearning for. There is ample and easy parking.
Blueprint Furniture was named 'LA's Best' by Los Angeles Magazine and their 15,000 square foot showroom is filled with unique and fresh designs, with new arrivals daily. Customers rate this haven for modern furniture highly on Citysearch and Yelp. Come see why Blueprint Furniture has been providing the best furniture and best deals to Los Angelenos since 1989!
About Blueprint Furniture
For more than two decades, Blueprint Furniture has showcased modern and contemporary furniture at prices that don't require overtime. Located in West Los Angeles, their 15,000 square foot showroom floor houses a collection of furniture and accessories for the home and office. Blueprint Furniture's unique selection has caught the interest of set designers and stylists for feature films, television shows, TV commercials, music videos, and print ads, and now, you.
Blueprint Furniture directly imports from around the world to offer customers an eclectic selection to choose from and at moderate prices. For customer convenience, Blueprint Furniture warehouses a large percentage of its merchandise for immediate delivery. They recognize that every individual's furnishing needs may vary and, therefore, provide custom designed furniture made to your exact specifications.
Blueprint Furniture believes that customers should enjoy their new furniture to its maximum potential. They keep prices affordable so that you don't break your budget. The Blueprint Furniture staff is filled with well-trained, experienced individuals that will assist you in finding whatever your house needs. In addition, they offer delivery and shipping worldwide.
HGTV, Kenneth Brown, Design on a Dime, Sofa, Modern Furniture, Yelp, Citysearch, Customer Reviews, Rip Off Report, Decor, Sectional, Lounge