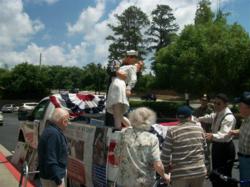 We were very excited to be selected for the unveiling at our Dogwood Forest community.
San Diego, California (PRWEB) July 03, 2012
As Americans celebrate on July Fourth, we are reminded of the sacrifices that current and former soldiers have made for our freedom. In recognition of the ordinary heroes of World War II, The Spirit of '45 Express was created. It is a mobile life size statue of the infamous Times Square Kiss statue that embodies the spirit of America.
In an effort to bring the memory alive and increase public awareness about the National Spirit of '45, the statue took a transnational trip from Washington, DC to California and back on a modified truck bearing this life-size statue. This year's National Spirit of '45 Day will fall on August 12.
The Spirit of '45 is meant to memorialize the spirit of the generation who came of age during World War II. Originally it was a celebration recognized and held by VITAS, who have been celebrating it for many years. It wasn't made an official day by Congress until 2010. Each year it's held on the second Sunday of August to coincide with V-J (Victory in Japan) Day and the end of World War II. The statue's journey to Washington, DC and back was launched to help inspire communities to plan their own Spirit of '45 celebrations. It stopped at retirement residences, museums, and a variety of cultural events along the way.
The 6 foot tall statue by Seward Johnson, brings to life the famous Times Square Kiss photo from August 14, 1945, and is meant to symbolize the spirit of the "Greatest Generation". Upon reaching Washington, DC the statue was featured in the National Memorial Day Parade and joined by hundreds of youth carrying pictures of soldiers who died in World War II. It also appeared at the Mid-Atlantic Air Show in Reading, PA.
Dogwood Forest Assisted Living facility in Dunwoody, Georgia was also chosen as a memorial stop on its historical journey through the nation. "We were very excited to be selected for the unveiling at our Dogwood Forest community. All of our residences enjoyed the reenactment of the WWII Vets in uniform. Our very own vets appreciated being remembered," says Kia Crawford, Corporate Communications Director.
The same generation being celebrated grew up during the Great Depression and went on to shape the twentieth century. They are frequently known as America's Greatest Generation.
About the Spirit of '45 Express
The Express was sponsored by Vitas Innovative Hospice Care along with numerous other Spirit of '45 events. More information can be found online at http://www.spiritof45.org.