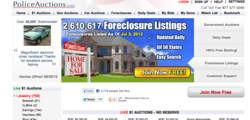 (PRWEB) July 06, 2012
California is one of the states most affected by the foreclosure epidemic, according to Reuters. Throughout the foreclosure crisis PoliceAuctions.com customers have had access to a comprehensive national foreclosure listing.
On Monday, according to Reuters, legislators in Sacramento passed legislation to protect homeowners from some of the most aggressive practices used by mortgage lenders. The legislation would stop banks from "dual-tracking" consumers. If signed by Governor Jerry Brown, the law would also allow lawsuits to be filled against banks who "robo-sign" documents.
If passed, the new legislation will offer Californian homeowners some of the strongest protections in the country. But there is also reason for concern as a recent U.S. Federal Reserve study found that delaying the foreclosure process had no measurable long-term benefits and only served to prolong the problems with the housing market.
With interest rates at historic lows and new legislation that may shrink the number of foreclosed properties on the market, now may be the perfect time for potential homebuyers to purchase a foreclosed home. PoliceAuctions.com offers a comprehensive searchable listing of foreclosed properties through out the country to assist potential homebuyers. Currently the foreclosure listing on PoliceAuctions.com has over 2 million properties for their customers to search through.
About PoliceAuctions.com
PoliceAuctions.com offers many services to their members including a searchable listing of police auctions and government auctions. PoliceAuctions.com is known for their one-dollar no reserve auctions. These fast paced auctions offer their users the chance to bid on, and win, items for as little as one dollar. By combining a product selection ranging from name brand jewelry auctions, watch auctions, collectible coin auctions, and sports memorabilia auctions with industry leading customer service, PoliceAuctions.com has earned the loyalty of over 5 million devoted users.
PoliceAuctions.com has made it even easier for customers and fans to connected with them via social media like their Facebook fan page. This exciting and newly launched space informs customers of up coming auction items.