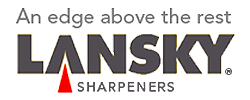 Buffalo, NY (PRWEB) July 05, 2012
Lansky Sharpeners, one of the most recognized names in knife sharpening worldwide, is working to increase brand awareness and expand their product lines. On February 24th 2012 Lansky Sharpeners named Christopher Fire as their new CEO. Since taking office Fire has already started to refine Lansky's online presence by partnering with Local Edge a division of Hearst Media Services. Moreover Fire has aided in the development of new products as he strives to keep Lansky on the cutting edge of the sharpening market.
Lansky Sharpeners is highly recognized for their hunting knife sharpeners and precision sharpening kits. Lansky Sharpeners is not only committed to high quality products, but they have also adopted 21st century technology and utilized modern techniques when designing and producing their sharpening systems.
Going forward, Lansky Sharpeners plans to expand their brand worldwide to showcase their time-tested high quality sharpening solutions to a wider audience. Lansky Sharpeners is increasing their quality assurance across all product lines including their legendary Controlled Angle Sharpening System. The Lansky Controlled Angle Sharpening System produces superior results for users regardless of their knife sharpening experience. The Lansky Controlled Angle Sharpening system's ergonomic design and ease-of-use has helped Lansky Sharpeners emerge as a leader in sharpening technology.
Lansky Sharpeners recently added new products including the firefighter's axe, easy grip knife and the Lansky tactical rod to their already extensive inventory. Lansky Sharpeners collaborated with the fire departments in Buffalo, New York and Boulder, Colorado to create the firefighter's axe, which can simultaneously hack into objects, turn valves and withstand 10,000 volts of electricity.
Lansky Sharpeners continues to develop innovative new sharpening technologies for hunting, outdoor sports, kitchen use, and the workshop. With the addition of new products, strong leadership and innovative design Lansky Sharpeners continues to make headway in the outdoors recreation market. Lansky's goal is to demystify the seemingly unwieldy endeavor of knife sharpening. Information about upcoming events, trade shows, local dealers as well as the catalog can be found on the Lansky Sharpeners website.
About the company:
Lansky Sharpeners is the most recognized name in knife-sharpening worldwide. In addition to their legendary Controlled-Angle Sharpener System, they continue to develop new sharpening technologies and innovations for hunting and outdoor sports, kitchen use, as well as the workshop. They are known for their hunting knife sharpeners and precision sharpening kits. Visit their Online Store to view their ever-expanding line of great sharpening products. For more information visit their website at http://www.lansky.com.