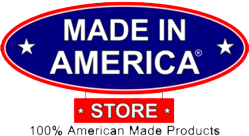 Elma, New York (PRWEB) July 04, 2012
The United States of American is the land of the free, home of the brave and the Made In America Store would like to remind everyone what Independence Day stands for. Independence Day is recognized on the fourth of July and is usually spent with friends and family.
The 4th of July represents the legal separation of the 13 colonies from Great Britain. The Declaration of Independence was a written statement explaining the 13 colonies' decision of separating from Great Britain. Congress at the time, had been working on the Declaration of Independence and with Thomas Jefferson as the Principal Author, it was finally approved on July 4th.
So in an actuality, Independence Day is celebrating our freedom.
The Made In America Store would also like to extend a thank you to the men and women who are currently serving, who have served and especially those who have given their live to serve this country. Without the men and women representing the red, white and blue, our freedom wouldn't have been protected. We owe more than gratitude to our men and women serving. As the saying goes "Freedom isn't free."
Every day, the Made In America Store gives Active Duty Military Personnel and Veterans a 10% Discount on all purchases, both online and in-store.
The Made In America Store is located at 900 Maple Road in Elma, New York and is committed to selling 100% American manufactured products. You can visit http://www.MadeInAmericaStore.com for more information or shop our catalog of over 3,500 products from over 290 vendors that are devoted to producing USA made products. All US military personnel, both active duty and veterans, receive a discount every day. Consumers can also keep up to date news articles, events, photos and contests with Facebook, Twitter, Google+, Pinterest and Tumblr!