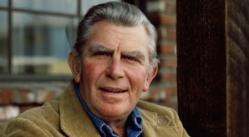 You're supposed to believe in the character," Mr. Griffith said. "You're not supposed to think, 'Gee, Andy's acting up a storm.
Miami, Florida (PRWEB) July 03, 2012
Andy Griffith was best known for his role as the Sheriff of the made up town of Mayberry on the hit series "The Andy Griffith Show" back in the fall of 1960. Working along side of Don Knotts A.K.A. Barney Fife, these two characters had so much chemistry that the show was always in the top ten of the television rankings.
"Andy Griffith, an actor whose folksy Southern manner charmed audiences for more than 50 years on Broadway, in movies, on records and especially on television — most notably as the small-town sheriff on the long-running situation comedy that bore his name died on Tuesday at his home on Roanoke Island in North Carolina. He was 86."
Read more at: nytimes.com
A representative of GreenBeanBuddy.com states that Andy Griffith had such a huge impact on not only his loyal fans but he was an inspiration for many other actors and actresses that he worked with in the past. His work ethic and striving for excellence made him one of the most popular actors of all time. When playing each role Andy Griffith wanted everyone to believe in his character and not the actor playing the character.