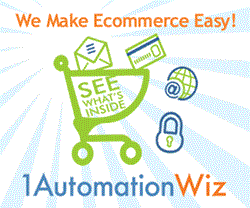 This video makes it so easy for potential ecommerce customers to understand how we can help grow their online businesses.
St. Louis, MO (PRWEB) July 06, 2012
1AutomationWiz.com commissions new promotional video to help explain its services and educate potential customers
Ecommerce shopping cart software provider 1AutomationWiz.com today released a new video that it says will help potential customers truly understand the range of services the company offers and highlights their position as the preeminent "one-stop" ecommerce software solution for internet-based or online businesses.
The new video was produced in the US by an independent video production company specifically for 1AutomationWiz. Company president Don Schnure had this to say, "We could have outsourced this work to a video production company outside of the U.S but felt that our message might get lost in translation."
The new video, available on 1AutomationWiz.com's YouTube channel as well as their web site uses cartoon animation to tell the story of a frustrated business person looking to sell products online; and how the 1AutomationWiz.com SEO friendly shopping cart service can help. "We actually wrote the storyboard for the video production company to use because the message was so important," says Amy Cainfield director of communications at 1AutomatonWiz.
1AutomationWiz.com stresses the significant cost savings merchants see when using the companies shopping cart software.
The new video highlights the the 1AutomationWiz feature set which includes their ecommerce shopping cart, email marketing system, merchant solutions, affiliate tracking and several other Internet marketing tools that the company provides and feels necessary for today's an online businesses.
1AutomationWiz.com anticipates that it's new intro video will help customers quickly grasp the concept behind the message in the video.
About:
1AutomationWiz is the original leader in ecommerce marketing automation software. Our "all-in-one" system provides all the elements merchants need to grow and build your business online. The 1AutomationWiz solution bundles shopping cart software, email marketing tools, ad tracking, split testing software, affiliate management tools and more into one easy to use revenue building ecommerce automation system.
YouTube channel: http://www.youtube.com/user/1AutomationWiz
New video: http://www.youtube.com/watch?v=mLOA-JETIMo
Contact
Don Schnure
1AutomationWiz.com
11939 Manchester Rd, #198
St. Louis, MO. 63131
Phone: 1-800-671-3871
http://www.1automationwiz.com/