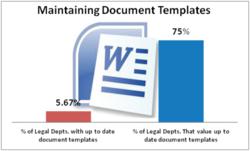 Brooklyn, NY (PRWEB) July 09, 2012
Industry questionnaires often reveal preferences and trends, but Business Integrity's General Counsel Contract Automation and Management Survey of over 400 in-house lawyers spotlights something far more compelling: possibility. While in-house counsel are forced to produce an ever-increasing volume of higher-quality work with fewer resources than ever before, innovations that foster efficiency, including automated contracting initiatives, offer them the promise of focusing on higher-value substantive legal analysis.
Our team conducted this survey in the fall of 2011 to determine whether counsel work with inbound or outbound non-disclosure, sales, licensing and other agreements as part of their traditional initiatives, and to gauge the volume of material that each produces annually. We also wanted to learn whether law departments use Word macros, templates, clause libraries, Web-based intake forms or software designed to create and manage contracts.
The results were telling in that they showed a willingness by in-house leaders to study the weaknesses in their organizations and consider strategies to strengthen their processes. A few key themes emerged as well.
Self-service Strategies
Achieve Essential Efficiency
Staff Strategically
Proactively Reduce Risk
Accelerate Action with Automation
Read more about each theme and our recommendations for action in the Metropolitan Corporate Counsel.